Planning a vacation to Los Cabos? Look no further! The redtag.ca team created a comprehensive guide for the perfect getaway under the Mexican sun. From relaxing on the beach to exploring the historic town of San Jose del Cabo, we've got you covered. Discover the best things to do, where to stay, and where to eat in Los Cabos. Read on to start planning your adventure to this breathtaking destination. 
Los Cabos, located at the southern tip of the Baja California peninsula surrounded by the Sea of Cortés and the Pacific Ocean, is a wellness paradise for travellers seeking sea, natural beauty, and new experiences. This beautiful destination is divided into two main areas: San Jose del Cabo and Cabo San Lucas. San Jose del Cabo is a quiet colonial town, while Cabo San Lucas is a vibrant hub for nightlife and entertainment. Here is our travel guide to help you plan your perfect vacation to this trendy destination.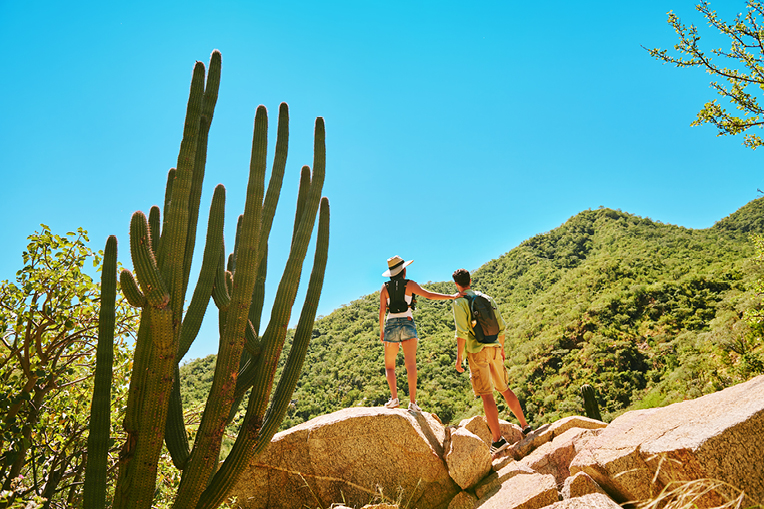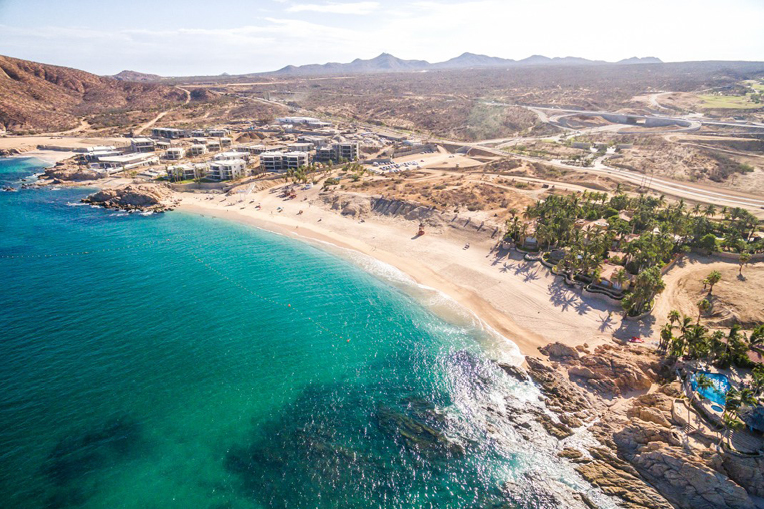 Los Cabos has some of the most luxurious beachfront hotels in Mexico. From small boutique hotels to all-inclusive resorts, there is a place for everyone - and every budget - in Los Cabos! Finding the best deals can be overwhelming when coming up with where to stay in Los Cabos. With easy monthly payment plans, redtag.ca makes travel affordable. Quick, easy, and simple.
Sitting on the southernmost tip of the Baja Peninsula, Nobu Hotel Los Cabos has mesmerizing views of sparkling sapphire waters stretching as far as the eye can see. With 200 rooms and suites, a luxurious spa, infinity pools and private cabanas, the hotel perfectly combines architectural elegance and laid-back luxury.
Overlooking the marina and perfectly situated on swimmable Medano Beach, the chic, adults-only Breathless Cabo San Lucas resort has location envy written all over it! Obsessed with views? Us too. The hotel's 169 suites provide a stunning view from the terrace or balcony.
The Riu Palace Cabo San Lucas overlooks a stunning white sand beach, ensuring your vacation will be unforgettable. Cool off in the hotel's two pools, relax on the lounge chairs, enjoy fabulous beverages at the swim-up bars, or enjoy the beach's crystalline water.
Be ready to be pampered in spacious ocean-view suites with private terraces that organically blend indoors and outdoors. Spend your day lounging or swimming in multi-tiered infinity pools, all with a view of the Sea of Cortez.
Perched on the tip of the Baja California Peninsula, Hyatt Ziva Los Cabos is a luxurious all-inclusive oasis for all ages. Enjoy delectable cuisine at seven unique restaurants, a pristine beach on the Sea of Cortez and all-inclusive activities for a memorable family vacation.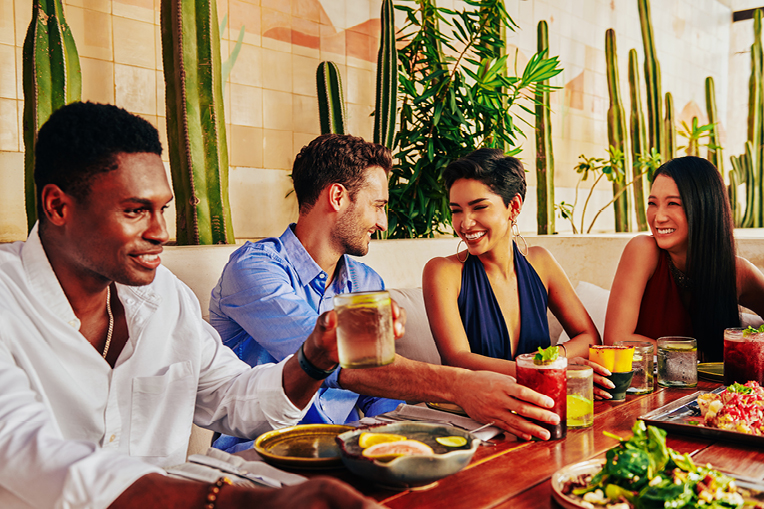 Los Cabos is a foodie's paradise, with some of Mexico's best seafood and fresh farm-to-table ingredients. Not only do Los Cabos' restaurants serve some of the best Mediterranean and Mexican dishes, but many provide an array of dishes from around the world. 
Mariscos El Compa Chava
Looking for the best ceviche in town? It's here. Choose from various options, including octopus, raw shrimp, and fish ceviche. Try the Baja specialty: a ceviche served inside large chocolate clams or a molcajete. As they say: bueno, bonito, and baratao! A classic expression meaning good, pretty, and cheap. 
Jazamango
Using only locally sourced ingredients, Jazamango offers the best of the Cabo food scene. Pastas are made fresh, barbacoa is prepared every Sunday, and pop-up menus offer specialty items like Vietnamese tostadas. Its airy indoor-outdoor setup is elegant and perfectly picturesque.
Los Tres Gallos Restaurant
This is the place to go for authentic Mexican cuisine. Unlike many of Los Cabos' restaurants, which are putting out more fusion-style food, Los Tres Gallos focuses on local classics like traditional poole, Caesar salad (invented up north in Tijuana, actually!), mole enchiladas, and stuffed green peppers. The patio is shrouded in greenery, making it a nice spot to enjoy dessert, whether it's flan, churros, or tres leches cake. 
Tacos Gardenias
When you go to Mexico, you HAVE to eat tacos. Family-run for more than 30 years, Tacos Gardenias serves all the Baja classics, like fish tacos, shrimp cocktails, ceviche, and seafood soup, while also offering tacos stuffed with cochinita pibil (juicy marinated pork) and fried shrimp. 
Manta
Manta's stunning views and sleek decor perfectly match its menu. Its world-renowned chef, Enrique Olvera, draws inspiration from various flavours to produce innovative dishes that retain distinctly Mexican characteristics.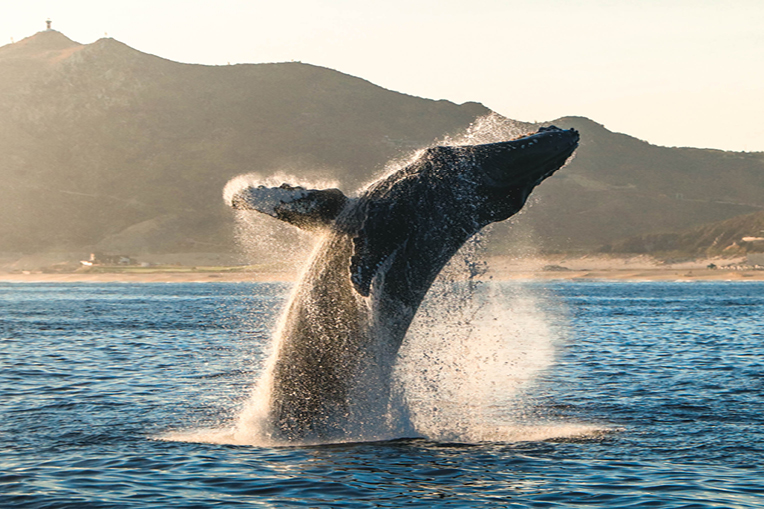 Whether you are looking for an adventure on the water or a relaxing time on the land, Los Cabos won't disappoint.
Relax on the beach
Los Cabos has some of the most beautiful swimmable beaches in Mexico. 25 of them have Blue Flag certification. Whether you prefer a quiet cove or a lively beach with water sports, there is something for everyone. Some popular beaches include the famous Playa del Amor, Chilean Beach, and Santa Maria Beach. 
Take a sunset cruise
One of the best ways to enjoy the stunning coastline of Los Cabos is by taking a sunset cruise. These cruises offer breathtaking views of the Arch of Cabo San Lucas, Lover's Beach, and the Pacific Ocean. 
Visit El Arco
El Arco is a natural rock formation located at the southern end of Cabo San Lucas. This iconic landmark is a popular spot for taking photos, watching sea lions, and snorkelling. 
Explore San Jose del Cabo
San Jose del Cabo is a charming town with cobblestone streets, art galleries, and a beautiful mission church. You can spend a day exploring the historic centre, visiting the local market, or sampling the local cuisine - mmm, tacos!
Treat yourself 
Spa days look different here. Indulge in the healing power of tailor-made experiences and award-winning services. You will leave the wellness utopia that is Los Cabos recharged by its vibrancy... and ready to return for more!
Whale watching
Los Cabos is the perfect place to see whales, especially between December and April. Many whales, such as orcas, grey whales, and humpback whales, migrate to the area in the winter.

Los Cabos is a beautiful and vibrant destination that has something for everyone. Its luxurious hotels, delicious restaurants, stunning beaches, and unparalleled service make it the perfect vacation place. Are you ready to discover peak wellness?
Ready to book a vacation to Los Cabos?
Made by Canadians, for Canadians. Browse the best travel deals on redtag.ca