If none of the previous types sound much like you, take a minute to consider what you really enjoy on a vacation. Do you live for constant challenges? Would you rather be riding a mud-splattered ATV along a dirt road or scuba diving into the depths of the ocean than lounging on a beach? Is fun – meaning: exciting adventures and experiences – a HUGE priority for you when planning a trip? 
If you answered yes to most – or all – of the above questions, then you are an Adventurous Traveller. You're more likely to be found at the bow of a whitewater raft, cruising through river rapids, or snowboarding down a black-diamond run, than reclining on a beach bed or in a yoga class. "Adrenaline" is your middle name, adventure sports are your game, and Jamaica is the destination for you! 
Whether you already know how to surf or are jonesin' to give it a try, you can head to Bull Bay in the southeast of the country, where Jamnesia Surf Camp can set you up with a board, lessons for all levels, and even private coaching. Boston Bay in the northeast, in Portland parish, is also known for its surfing hotspots. So bring a positive attitude and some eco-friendly sunscreen and try and catch a wave or two!
If surfing isn't thrilling enough for you, get yourself to the Rio Bueno, a river located in a mountain valley on Jamaica's scenic north coast. Here you can choose to adventure down the river on a kayak, tube, or raft. Prepare to enjoy picturesque waterfalls and lots of rapids as you get soaked! 
If you've had enough of the water, make your way up into the trees and mountains. Zipline over the verdant rainforest canopies of Ocho Rios for a thrilling experience and a unique aerial perspective of the island. Another way to get up into the clouds is by hiking. The Blue Mountain peak is the highest in the country and one of the highest in the Caribbean. From the top, which sits at an elevation of 2,256 metres, you'll have an excellent vantage point. On a clear day, you'll see Kingston to the south, most of the north coast, and the whole mountain range! Take a detour to one of the coffee plantations nearby – and don't leave without trying the famed Blue Mountain coffee, which is some of the best in the world!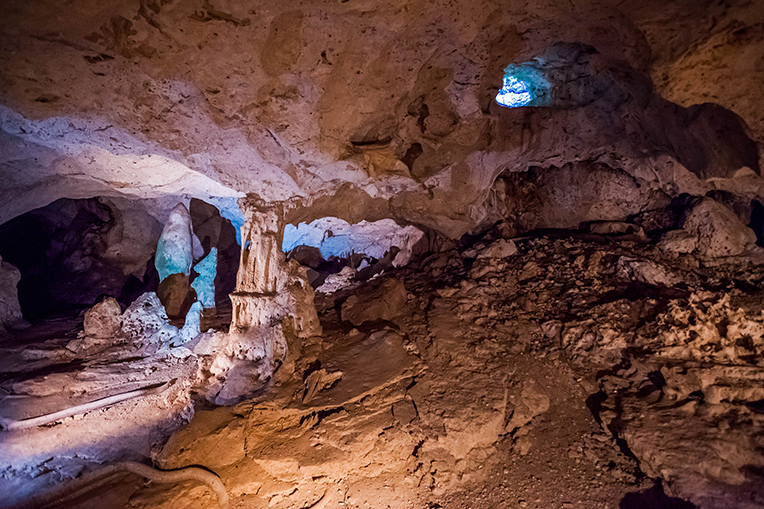 You've explored the water, the sky… what's left? Now it's time to head below the Earth's surface. Check out the Green Grotto Caves, a mysterious labyrinth of underground caverns in Ocho Rios. Learn about the wildlife that inhabit the area in and around the caves – including nine species of bats! – as you explore their secrets. The Windsor Caves, also in the island's north, in the Cockpit Country area, are another excellent choice – but only if you are a highly experienced spelunker. You can find Jamaica's largest bat population here as well as some truly fascinating rock formations. 
Even the most intrepid adventurer needs some time to rest up, after a long day of exploration – a tranquil oasis where you can rejuvenate and recoup your energy. We recommend the Bahia Principe Luxury Runaway Bay, an adults-only resort with a stunning view of the Caribbean and an exceptional butler service. This luxury hotel has an on-site spa – you'll certainly need it! – and it's a short drive from both Rio Bueno and the Green Grotto Caves, so you can get right back into adventure mode tomorrow! You can also easily rent snorkelling gear, paddleboards, kayaks, and boogie boards, or even hire a catamaran, in case the day's activities weren't enough to fully fatigue you. 
If you'd prefer to stay in Negril, a town on Jamaica's beautiful west coast, then the Hotel Riu Negril is your best bet for maximum comfort. Overlooking the Bloody Bay Beach, this all-inclusive resort offers you a perfect locale for stunning sunsets, a full-service wellness centre for those sore muscles, and a variety of culinary options, from delectable Asian cuisine to authentic Jamaican barbecue.  
Go ahead… treat yourself to an unforgettably adventurous summer getaway in Jamaica, the land of rhythm and sway, today!
Ready to book your getaway to Jamaica?
See the world, your way. Browse vacation packages to Jamaica on redtag.ca.