Island vacations should be an unforgettable experience, where you create memories with your loved ones that'll last forever. But did you know that it could also be the most luxurious travelling you'll ever do? Learn about these five exquisite islands and see why a trip to the Caribbean needs to be on your 2022 bucket list!
If these last two years have taught us anything, it's that you never know what tomorrow will bring. There's no time like the present to treat yourself and take that exotic trip you've been saving for! There are so many incredible vacation packages available now – the only problem you'll have is trying to choose which beautiful island resort to visit!
So what better way to rejuvenate your body and mind than a trip to a tropical island? Cross one – or all! – of these gorgeous vacation spots off your 2022 bucket list!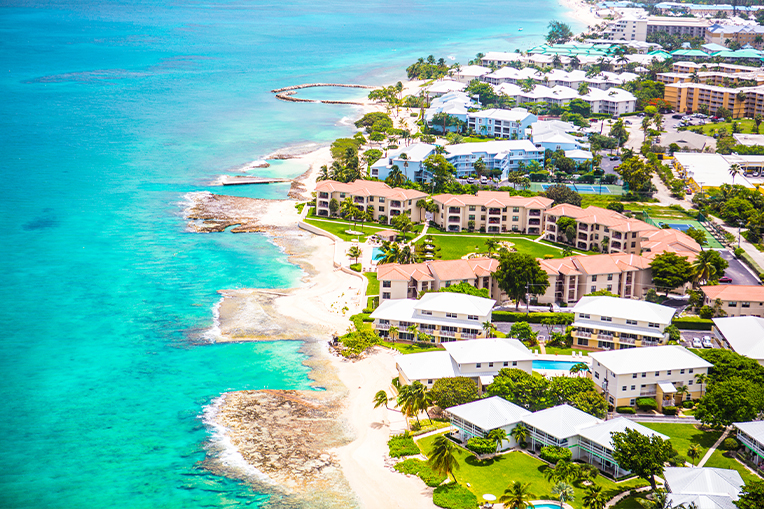 Fascinated by myths and legends? Well, the Lost City of Atlantis has been "found", and it's in the Cayman Islands! If you're feeling adventurous, you can visit the unique sculpture gardens of Cayman's Atlantis as well as mysterious underwater caves. Diving enthusiasts can also navigate crystal-blue waters to swim with eagle spotted rays, sea turtles, and the friendly neighbourhood stingrays!
For landlubbers who feel more comfortable on shore, you can relax on one of Caymen's many striking beaches or try your hand at birdwatching. See if you can spot the rare Cayman Brac parrot!
Grand Cayman, the largest island in this archipelago, offers five-star hotel amenities, all-inclusive resorts, duty-free shopping, and a variety of dining options in world-class restaurants. However, it can get crowded. For those looking for a more tranquil visit, your best bet is to stay on Cayman Brac or Little Cayman, which are more secluded yet still have some of the best beaches in the world.
Explore the underwater mysteries of the Cayman Islands today!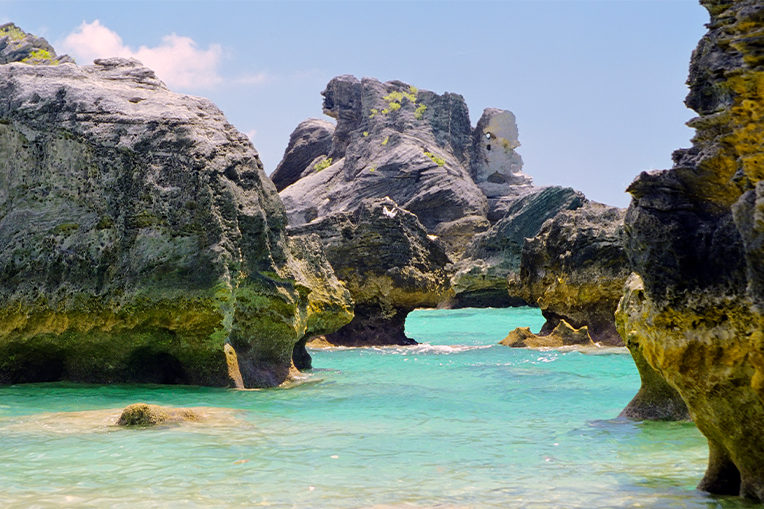 Close your eyes and picture this: you're walking on a pink-sand beach with the smell of fresh frangipani in the air, listening to the sound of gentle waves hitting the shore. This isn't a dream – this is Bermuda. You could spend days traversing the island nation's spectacular coastline and still not see all 34 kilometres of it!
Bermuda is for everyone. For the outdoorsy adventurers, you can explore ancient wrecks, vibrant coral reefs, and underwater caves in the shipwreck capital of the world. If Ice-Age-old stalactites and stalagmites are more your style, visit the Crystal Caves, an ethereal network of subterranean lakes and caves.
Boating aficionados can enjoy the view of the islands from a sailboat or yacht cruise. If you're skilled on the water, you can also rent your own private boat or even a super yacht!
As the oldest British overseas territory, Bermuda also has something to offer the history buffs. Visit the approximately 90 historic forts on the island. Enjoy the princely architecture – an aesthetically pleasing mix of European, American, and Caribbean styles – of the unique buildings and mansions covered in cascading bougainvillea.
Bermuda also boasts diversity. It has cultural influences from England, Portugal, the West Indies, Africa, Asia, and North America.
Tired of all the sunshine and dazzling beaches, and ready to head indoors? Make your way over to sophisticated Hamilton, Bermuda's capital city. The City Hall & Arts Centre features a theatre and two art museums, which house works from contemporary Bermudan artists as well as featuring international exhibitions from renowned artists such as Banksy and Andy Warhol. A quick jaunt to nearby Paget and the Bermuda Botanical Gardens will also take you to the Masterworks Museum of Bermuda Art. This vibrant cultural arts centre showcases works from dozens of master artists, including Winslow Homer and Georgia O'Keeffe, many of whose paintings were inspired by Bermuda's beauty.
Finally, a day in Bermuda is never complete without a visit to a pub or one of Bermuda's many fine-dining restaurants. Don't forget to sample some of their signature rum drinks, including the citrus-infused Bermuda rum swizzle!
Make this dazzling dream a reality now and book your stay in beautiful Bermuda!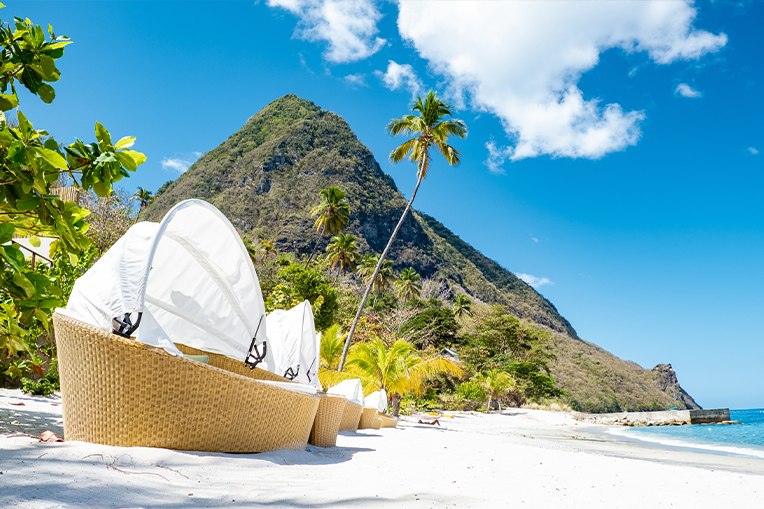 Whether you are looking for a beach vacation, complete with luxurious pampering, or to add adventure to your life, St. Lucia has it all! The only sovereign nation to be named after a woman, St. Lucia offers an exciting mix of outdoor adventure, relaxation, and culture.
This island isn't the world's most well-known resort destination. But with its jungle greenery, chalky beaches, rugged volcanic terrain, and delicious Creole cuisine, many people consider it one of the best places to visit in the Caribbean.
Formed by volcanoes, St. Lucia is dotted with waterfalls, therapeutic mud baths, and sulfur springs. Mud-bathing at Soufrier Volcano, the world's only drive-in volcano, will help to detoxify and heal your body. Afterwards, you can get an invigorating massage at the foot of a breathtaking rainforest waterfall.
Adventurous types can hike the dormant volcano plugs called the Pitons, which were once worshipped as gods by the native Arawak people. These picturesque rock formations overlook impressive snorkelling and dive sites as well. If you're lucky, you may catch a glimpse of a whale shark or pilot whale!
The many ways to explore the island include guided hikes through the bird-filled rainforest and nature trails, ATV tours, and ziplining. Head up the Eastern Nature Trail along the Atlantic coast for dramatic vistas of ocean waves crashing into the jagged cliffs below you.
With abundant fresh fruit and seafood, St. Lucia has plenty to offer foodies. Don't forget to try a plate of green figs and saltfish, the island's national dish!
Head to luxurious St. Lucia today to experience what true pampering is!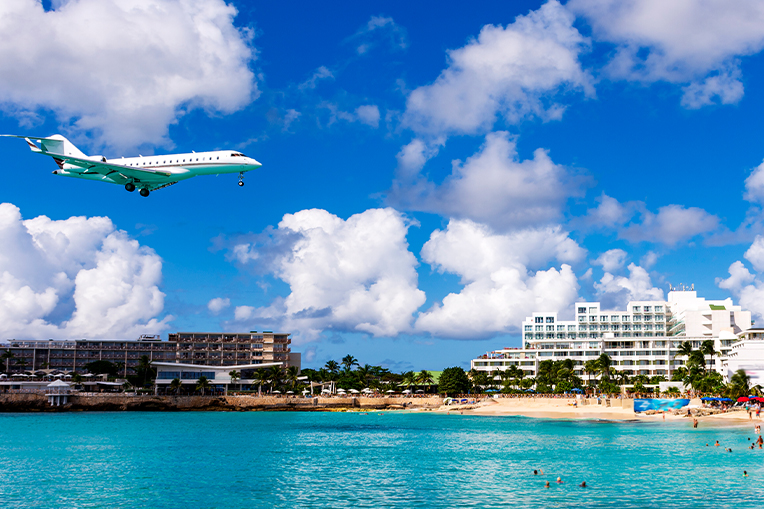 You don't have to travel too far from St. Maarten's Princess Juliana International Airport to experience all that Maho Beach has to offer. In fact, plane-spotting is a local and tourist pastime! Just brace yourself and be sure to grab hold of all your possessions, as the larger jet planes have been known to knock people off their feet!
If aviation isn't your thing, lounge on the powdery-soft sand of Maho Beach and look out into clear aquamarine water. Try your hand on the card tables or slot machines at the Casino Royale or Dunes Casino. Play 18 rounds on the Mullet Bay golf course.
Book your stay at the spectacular Sonesta Maho Beach Resort, where you can get pampered at the Serenity Spa. A variety of treatments are offered both indoors and in an outdoor gazebo overlooking the stunning crystalline Maho Bay waters. Finally, relax over a gourmet meal cooked by a world-class chef at one of the many specialty restaurants.
Kick your Caribbean vacation into gear with a trip to majestic St. Maarten!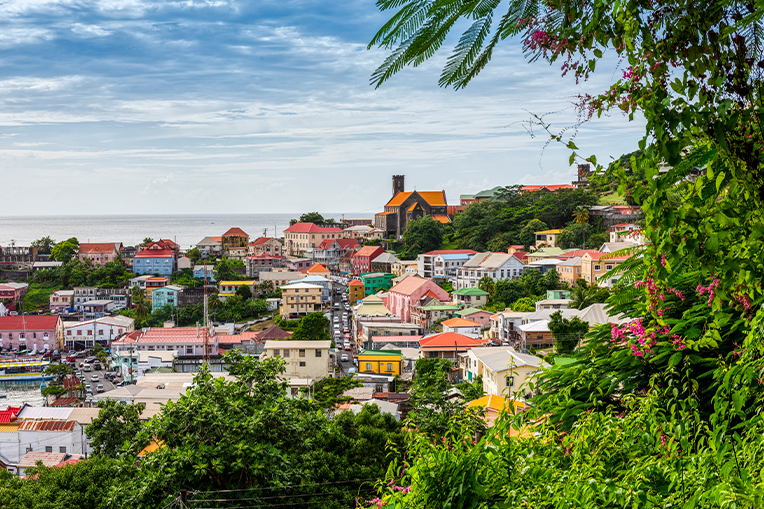 Grenada, sometimes called "Isle of Spice" because of its abundance of chocolate and aromatic spices, is a string of three islands in the West Indies, flanked on all sides by white sandy beaches.
Grenada's rainforests gave birth to some of the world's most sought-after spices such as nutmeg, mace, ginger, cloves, and cinnamon. There are three rum distilleries and five chocolate factories here. Pick up some of the famed organic dark chocolate or bonbons as a treat!
Prefer to spend most of your time in the water? Charter a yacht or sailboat so you can explore what the island has to offer at your leisure! If that's out of your price range, one of the many snorkelling and dive operators can take you to some of the most exquisite underwater sites in the world. Tour the Caribbean's largest shipwreck, the MV Bianca C, view the world's first underwater sculpture park, and swim with eagle rays and nurse sharks!
If you'd rather stay on land, explore the Seven Sisters Waterfalls on your own or schedule a tour.
Stroll through the narrow, colorful streets of St. George's, Grenada's capital city, to feel like you're inside an oil painting. Finally, make sure to feast on delicious Caribbean fare, including the Oil Down, a scrumptious one-pot stew, before you leave!
Take a vacation that'll cause a sensation on Grenada, the aromatic Isle of Spice. 
—
It's never too early to start working on your bucket list. Start planning your next adventure now, and head to one of these breathtaking island destinations – you won't regret it!
Ready to book your getaway to the Caribbean?
See the world, your way. Browse vacation packages to Caribbean islands on redtag.ca.