There's nothing like a family vacation. The redtag.ca team has curated the best family resorts for your next getaway with your favourite people. 
As most Canadians already know, Family Day – which has different names across the provinces – was a holiday created on the third Monday of February. Its purpose is to give hard-working Canadians a long weekend to spend quality time with their families. And because it's in February, a cold winter month devoid of any other statutory holidays, it's a much-needed break we can all look forward to. 
So why not take your crew on a sunny family getaway that will allow you to reconnect, relax, and recharge? Escape this dreary winter now – jet-set away to an island paradise where you can play all day in the sand, work on that tan, and swim in a crystal-clear ocean! 
But with so many gorgeous locales and luxurious hotels to choose from, it can be hard to pick the right one for you and your crew But the redtag.ca team is here to help you decide! We've created a list of our favourite family resorts, and the best one for you depends on what kind of family you are… so read on and find out!
The Family That Likes to Play All Day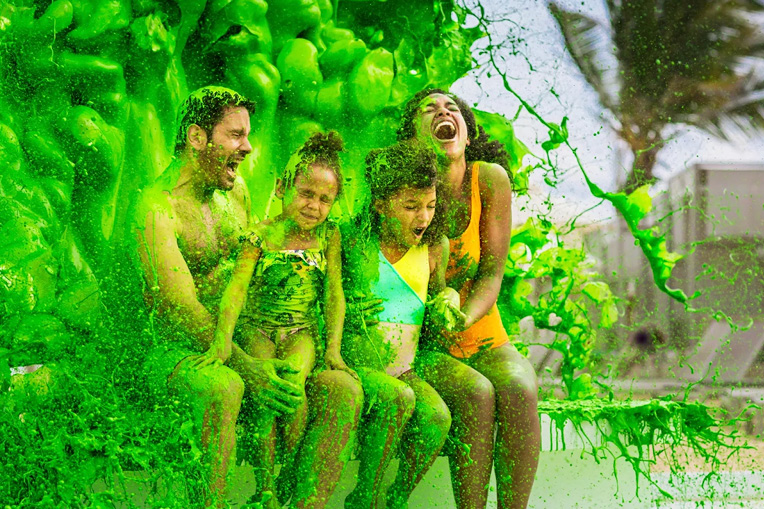 You are a fun and super-active family that enjoys non-stop entertainment. Your kids would play all day and all night if you didn't have to drag them off to bed at some point. You don't take life too seriously, and you value the importance of play in both your children's lives and your own.
The best family resort for you is the Nickelodeon Hotel & Resorts Punta Cana! Located on a stunning stretch of coastline in the easternmost region of the Dominican Republic, Punta Cana is certainly a sight for sore eyes. Your home away from home will be on a perfect white-sand beach with a view of brilliant turquoise waters, and you and your loved ones will have infinite options of activities to keep yourselves entertained during your entire vacation!
If you're a large crew, stay in the delightful Pineapple Villa, which was inspired by SpongeBob SquarePants' iconic underwater home. You'll have your very own private patio with an infinity pool and an outdoor bathtub, so the kids can play with a view of the stars above.
Say good morning to your children's favourite Nickelodeon characters at a fun meet-and-greet breakfast experience, the Pajama Jam – cute jammies required! Get super-slimed, a uniquely Nickelodeon experience that your kids will love. If the young ones want some adult-free time, you can drop them off at Club Nick, where they can play games, create art, and just hang out – all with professional supervision. They'll love bouncing around in the ball pit with all of their new friends!
Getting too overheated? Head to AquaNick, the on-site water park, where you'll instantly cool down. Here the kiddos can meet more characters, get slimed, play on winding water slides and splash pads, and have the time of their lives!
Play all day at the best family resorts in the Caribbean.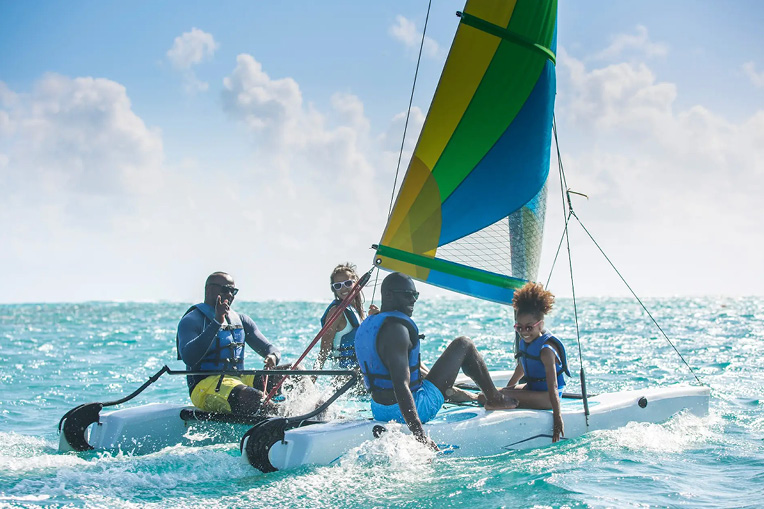 You're no typical family! You have a true taste for adventure, and you can be found rock climbing, snowboarding, or ATV-ing in your spare time. You've instilled this adventurous spirit in your family as well, who share your passion for extreme sports, and you spend your time Googling questions like, "At what age can my child learn to paraglide?" While you do value alone time and relaxation occasionally, you think a vacation spent lying on the beach all day is too tame.  
Sound like you and your crew? Then head straight to Club Med Cancún Yucatán for the adventure of a lifetime! From your tropical oasis on the northern tip of the Yucatán Peninsula in Mexico, you'll be just steps from world-famous beaches and the waters of the Caribbean. Grab your snorkelling gear and swim out and over the Great Mayan Reef, the second-largest coral reef system in the world. Explore the wonders of the sea and experience the colourful and diverse marine life of Central America almost from your doorstep. 
Have your kids always dreamed about running away with the circus? Well, Mini Club Med + offers flying trapeze group lessons for minis aged four and up to help make that dream come true! Watch as they soar through the clear blue sky and experience the excitement of the circus arts! 
Are your wee ones afraid of heights? If so, there are also juggling and archery lessons available, so they can keep their feet firmly planted on the ground while still learning something new! And if the water is calling to you, there are sailing lessons available. Learn the fundamentals of sailing and enjoy the sun and sea together as a family. All aboard!
Go on an adventure in paradise and stay at the best family resorts.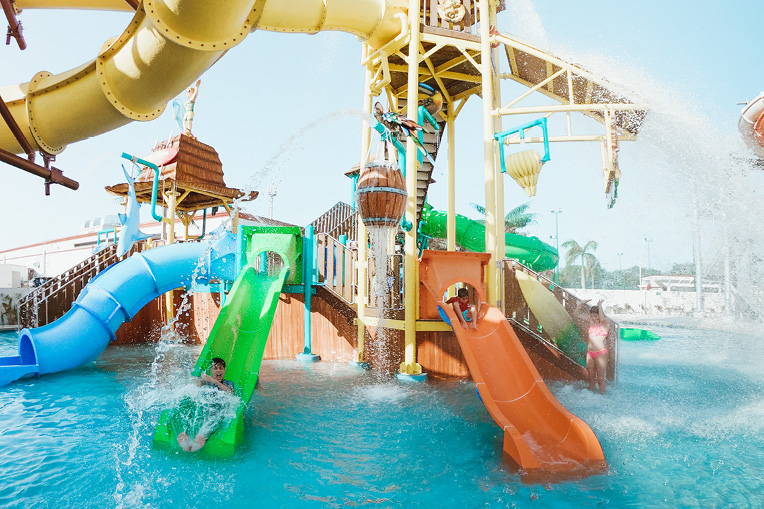 You and your crew are all about that musical life. You do most tasks with a pair of earphones on, and music is only turned off when you're sleeping. You know the lyrics to thousands of songs, constantly sing in the shower and enjoy listening to a broad swath of genres.
If this resonates with you, then the Hard Rock Hotel Riviera Maya is your best bet for a musical retreat to remember! Also located on the Caribbean coastline of Mexico's stunning Yucatán Peninsula, this Riviera Maya family resort is the perfect setting for your relaxing vacation.
First things first: drop the little ones off at the Hard Rock Roxity Kids Club, where they can have the time of their lives and meet new friends. The daily themes change regularly, so they'll never be bored. Some of the fun activities they'll take part in include a beach party, music quiz, dance contest, and treasure hunt. During the "Battle of the Bands", you'll get to watch your mini rockstars in their own musical performance – this can't be missed!
To enhance your musical immersion, the resort provides you with a specially curated playlist that will be your family's soundtrack as you create beautiful memories here. And the musical fun doesn't stop there! There are nighttime music activities for kids, and there are also live concerts in the evening. So you and the family can watch electrifying performances ranging from mariachi music and Latin rhythms to rock and folk. As the temperatures cool and the stars light up the sky, sway to the beat of the music to your heart's content.
Sway to the beat and dance all night at the best family resorts.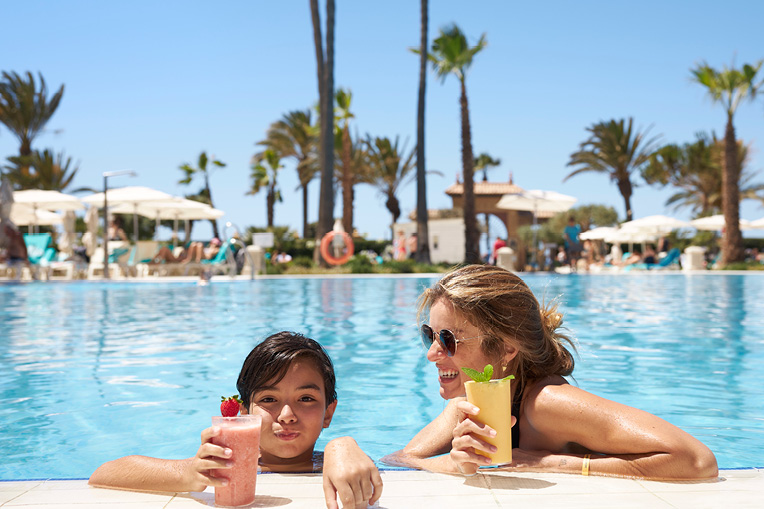 You have a bucket list of adventures that spans continents, and the feats you've already accomplished in your life are extraordinary. A vacation for you isn't just about relaxation; it's about immersing yourself in a different culture, experiencing new things, tasting the best of the local cuisine, and exploring non-stop.
Does this sound like you and your bunch? Then the Iberostar Daiquiri Cayo Coco is the perfect home base for your family to launch the next exploration! Stationed on the remote Cayo Guillermo, this family resort will be your tranquil oasis in paradise.
To begin your adventure, step off of the pristine beach and into the clear blue sea. You can choose to snorkel or scuba dive, and either way, you'll be treated to the sight of colourful and diverse marine life below the surface of the water. Swim with schools of snappers, groupers, and even some eagle rays!
Can't get enough of the outdoors? Rent a bicycle or grab your hiking boots and explore the beautiful nature parks in the area. Be surrounded on all sides by verdant tropical vegetation as you bike or hike your way through the lush rainforest.
Cayo Guillermo is one of the best places to take part in kitesurfing as it gets enough wind throughout the year and the water temperature is warm. If you've never tried kitesurfing before, this is also an ideal spot for beginners, as the water is shallow and the waves tranquil.
You can't leave Cuba without trying some of the local offerings! Cuban gastronomy has Caribbean, African, Indigenous, and Spanish influences, and it uses the tropical ingredients of the area to create a unique and delightful fusion cuisine. Try the picadillo or the ajiaco criollo, a traditional country-style Creole stew that will set your taste buds on fire. ¡Buenprovecho!
Explore tropical paradise with your crew and stay at the best family resorts in the Caribbean.

The Family That Loves a Little Luxury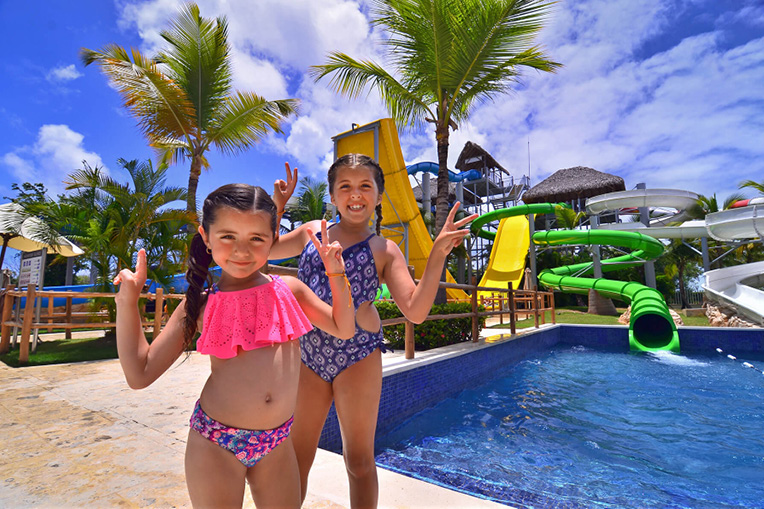 You're not a millionaire, but you also don't mind spending a little more for an upgraded, luxurious experience. You enjoy the finer things in life, and because you don't take vacations all the time, you expect only the best when you do put in the effort to research and book a family getaway.
The Royalton Splash Punta Cana, an idyllic gem in the Dominican Republic, is your go-to spot for a retreat that combines affordability and luxury. This is where you can play, eat, and sleep in lavish surroundings and receive the royal treatment you deserve.
Upgrade to Diamond Club status and enjoy exclusive amenities like butler service and access to a private pool. Book the Luxury Jacuzzi Junior Suite for an even more memorable experience and stay.
Head to Playa Bávaro, which is just steps away from your room, to enjoy one of the longest white-sand beaches in the Caribbean. Diamond Club guests will be able to enter an exclusive area that has its own bar and wait service. So grab a cocktail (or mocktail for the kids!) and soak up the sun and sea breeze from your comfy beach bed.
You'll also have your selection of gourmet restaurants to choose from – so whether you're craving Italian cuisine or locally caught seafood delights, you and your crew won't go hungry in Punta Cana! For an extra-special culinary experience, you can book a seat at the Chef's Table, where a personal chef will take you and your family through seven mouthwatering courses.
The kids don't have to miss out on this luxurious experience either. They can spend their days at the Clubhouse Kids' Club or the Hangout Teens' Club, where they'll have access to their very own PlayStation lounges, a ball pit, VR gaming, and various water sports equipment.
Want something for the whole family to do? Why not try a cooking class, where you can whip up your favourite Caribbean dish together? You can also play a refreshing game of beach volleyball or enjoy an open-air theatre performance at night. When you're done for the day, head back to your suite, watch the sunset from your private balcony, and fall asleep to the sounds of waves gently hitting the shore. Aahhh, paradise!
Indulge in royal treatment at the best luxury family resorts.

Whichever family-friendly resort you choose, you can't go wrong! Make it your goal this spring to put family first and give yourself and your crew a memorable retreat to cherish forever. 
So what kind of family are you? And where will you go?
Ready to book your family vacation?
Made by Canadians, for Canadians. Browse the best travel deals on redtag.ca