Looking to spend a long weekend in Las Vegas? Keep reading as the redtag.ca team has planned the whole thing for you! From hotels to fun activities, we've got you covered from start to finish.
There's a reason why people continue to go back to Las Vegas, the Entertainment Capital of the World, year after year. This is the perfect destination for travellers of all types, as there's something for thrill seekers, partygoers, and everyone in between! Whether it's your first time or your twentieth time in the city, Vegas always promises to keep things fresh with new and unforgettable experiences. 
If you're a Vegas newbie, the countless options for things to do and see may seem daunting. How much time do I need? Where should I even begin?
But one of the great things about Las Vegas is that many of its attractions are packed closely together, so you can see a lot in very little time. And best of all, it's just a short few hours by plane, with direct flights from most major Canadian cities. So even a long weekend will be enough time to get a true taste of the Vegas experience – and you won't need to use up any vacation days to enjoy it!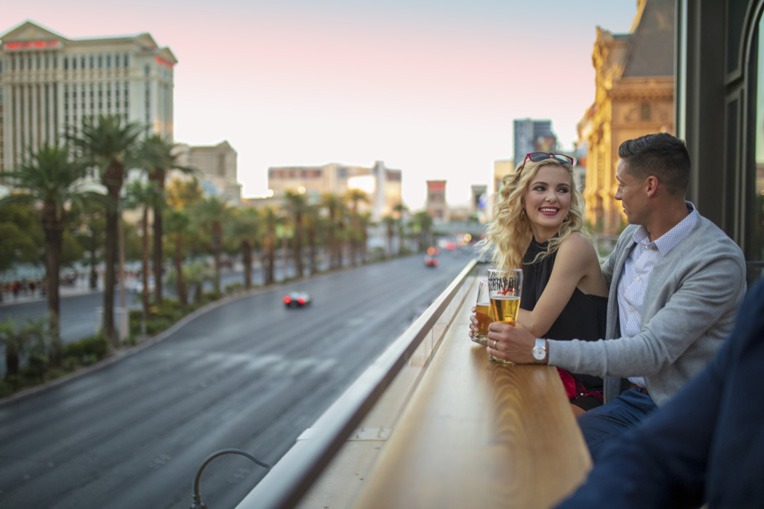 Need hotel recommendations? Don't worry, we got you! If you're looking for a serene retreat with an incredible view of the Strip or the Las Vegas Valley, book a panoramic suite at the Wynn & Encore. Check the hotel's course schedule for currently available classes, where you can learn to craft gorgeous cookies from a professional pastry chef or master the margarita with their resident mixologist. 
For sleek, modern rooms and access to big-name residency artists like Usher, Maroon 5, and Bruno Mars, stay at the Park MGM. You can even book a luxury entertainment package, which will give you the best seats to your favourite shows, dining credits, VIP access, an incredible suite, and more! 
For New York vibes without the New York weather, a stay in this contemporary spot right in the heart of all the Vegas action is a must. Unwind in your comfortable Soho-style loft at the New York-New York, experience the thrill of the heart-stopping Big Apple Coaster,or enjoy classic and new games at the family-friendly arcade.  
Inspired by traditional European village design and featuring its iconic fountain, the Bellagio will elevate your Vegas experience. And whether you're craving Hong Kong and Szechuan cuisine with a lakeside view or beautifully crafted macarons at a French-style pâtisserie, you'll find any cuisine your heart desires at one of the many restaurants, cafés, lounges, and bakeries on site! 
Looking for the luxuries of a resort combined with urban amenities and convenience? Then reserve a room at The Cosmopolitan of Las Vegas! Stay in the Terrace One Bedroom Suite for unparalleled views of the city from your expansive private terrace and your own personal Japanese soaking tub. Oh, and did we mention there's a pool district, with three different pool experiences, daybeds, and cabanas available? 
For a fully fun and fabulous experience, playful vibes, and non-stop entertainment (and lots of pink!), Flamingo Las Vegas provides you with your suite escape. Right in the centre of the Strip, you'll be walking distance to all your favourite attractions and have an excellent view of the famed High Roller. Pets are also welcome – bring along the pup so neither of you will miss out on the experience of a lifetime! 
Want to feel like royalty? Then a stay at the world-famous palatial resort Caesars Palace is a must for you! Peruse the specialty stores and big-name luxury brands at the Forum Shops or receive the royal treatment at one of seven pools in the Garden of the Gods Pool Oasis. 
For the right combination of comfort and personality, book an elegant chamber or a one-of-a-kind suite at Virgin Hotels. Each room comes with a unique design and space for days, with separate work and sleep areas, so you can truly relax in your home away from home. 
Want to find the best rates on a wide selection of top-notch Vegas hotels? Head to redtag.ca now for centrally located, luxurious suites that will make your Ve-cation even more magical! If you want your trip planning to be even easier, book a package and leave the work to us!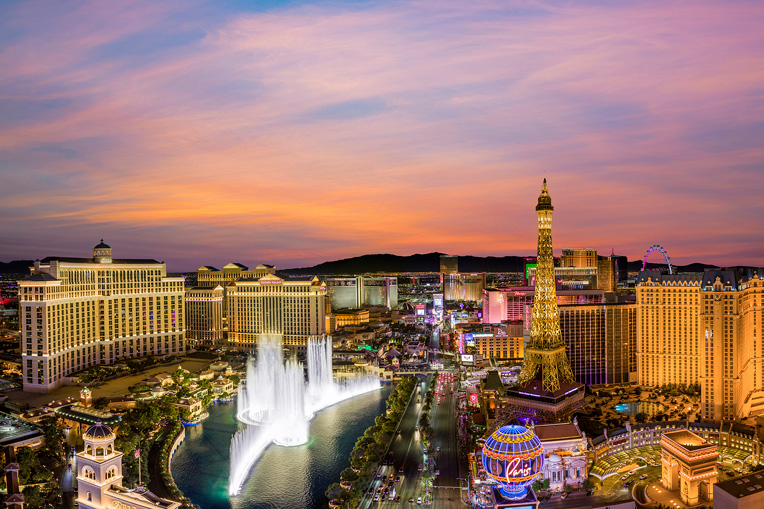 So you've locked in an excellent hotel and you're ready to go – now what? Find a flight that will maximize your short time in the city. Ideally, you should arrive in the morning so you're not wasting a day in transit. Or, if you'd rather leave right after work, book a flight that will get you into town at night, rest up in your luxury suite, and be ready to tackle the day early the next morning! 
If you're ready to take off, head here for affordable direct flights to the city. Whether you're booking in advance or seeking out last-minute deals, you'll find the perfect flight. 
With transportation taken care of, you now have to decide what to do with the three days you've planned for your holiday down south. Well, not to worry – we've put together the perfect itinerary for you to get the most out of this quick escape to Vegas. You'll experience awe-inspiring performances, exciting sporting events, retreats into nature, culinary delights, and more. And after your long-weekend getaway, you'll be back home already planning your return!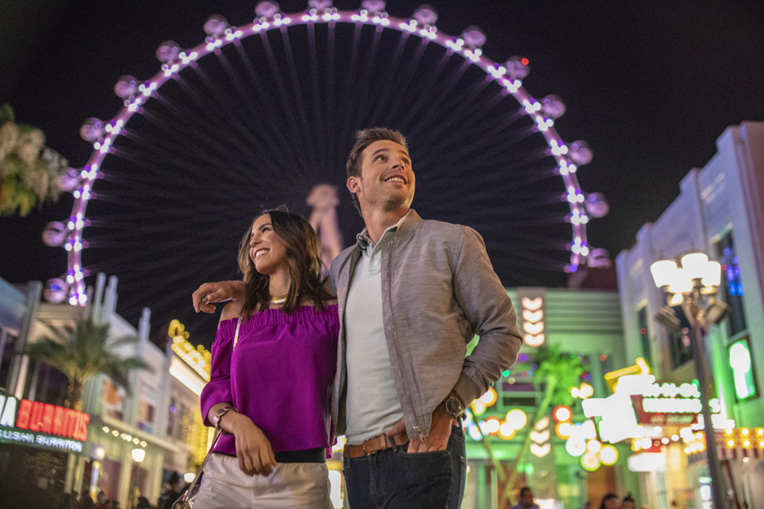 You land at LAS and make your way off the airplane, a little drowsy but ready to go! There are a few different ways to get to the Strip from here. The easiest and most convenient way (and also the most expensive) is to take a taxi or a private shuttle. These are available 24/7 and provide you with door-to-door service in about 10 minutes, depending on traffic. Cheaper options include the airport shuttle (30-45 minutes) or the RTC Airport Bus (around 40 minutes).
An important note about getting around the city: while it is walkable, the distances between hotels and attractions can be deceiving. The Strip is almost seven kilometres long, and each of the resort properties is massive – so walking to the hotel right next door could take 15-20 minutes. Be prepared for that and bring appropriate walking shoes and rain gear, just in case! 
Alternatively, there's The Deuce, an air-conditioned double-decker bus used by both locals and tourists that connects the downtown core with the Strip. It runs 24 hours a day with a frequency of 10-20 minutes, and there's an affordable 3-day pass that's perfect for you if you don't feel like hoofing it up and down the street.
So you arrive at your hotel and are checked in by the friendly concierge. Take a moment to settle in first – drop off your bags, unpack your belongings, make tea or a coffee, and just sit and enjoy the stellar view from your balcony or terrace. Yes, your time is limited, but you don't want to be burned out by the end of Day 1! 
To boost your energy after your travels, head straight to Urth Caffé at the Wynn & Encore. All espresso drinks can be made with light or dark roast beans and can be 100% plant-based if requested. If you have a sweet tooth, order a Caffé Bebero or a Spanish Latté for a quick pick-me-up. The stuffed French toast is the decadent breakfast bonanza you didn't know you needed. 
Now it's time to enjoy a few hours of poolside lounging! Your resort likely has some pools, and if not, head to one of the aforementioned properties. Most of them allow non-guests to enter if you reserve a daybed or cabana. So check which one has the vibe you're feeling, reserve a spot, and head on over for some fun in the sun. Order a signature cocktail or tropical fruit juice and some savoury snacks from your pool attendant. Work on your tan in one of the lavish sunbathing spots. Or just nap and nibble in privacy in your comfy cabana. 
In the evening, attend a Vegas Golden Knights game. Even if you're not a hockey fan, the atmosphere in the arena and the energy from the Knights fans is a memorable experience and can't be missed! Check the current schedule to see game dates and book your ticket in advance for the best seats. Home games take place in the T-Mobile Arena, and there are several food options inside, so you won't need to travel far for great mid-game grub.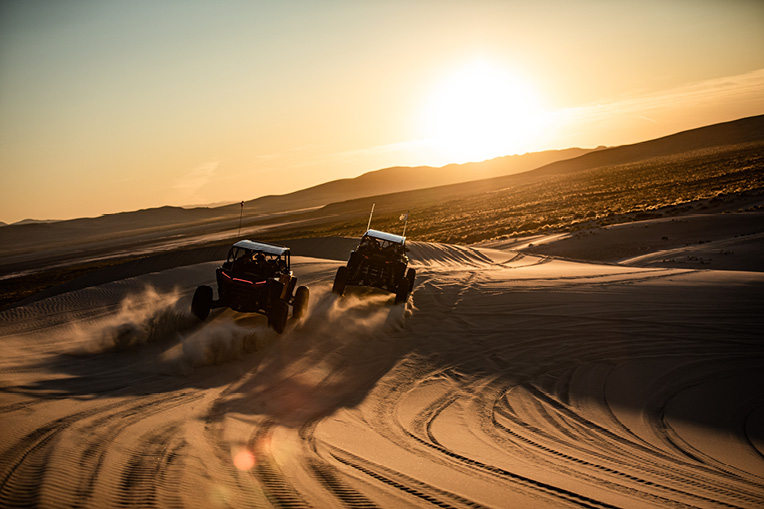 You wake up after a hopefully restful night in your room with a view, ready for more Vegas fun. But first: coffee. And second: food! 
Head to Primrose in Park MGM, where all-you-can-drink sparkling rosé and brunch classics and specialties are served until 2 pm. A hot cappuccino will get your day started the right way, and the special deep-dish pancakes are a sweet treat you need to try. 
Now with breakfast sorted, it's time to go on an unforgettable outdoor adventure! It's easy to forget that this glitzy, glamorous city is actually just a few kilometres from stunning natural beauty. And one such site is the Red Rock Canyon, a beautiful natural conservation area located in Red Rock State Park, just 27 kilometres from the Strip. Several operators run trips into the park, and you can either book one online or your hotel can help you make a reservation. Tours vary, as there are many ways to see these rugged and iconic rock formations. You can travel the Scenic Loop from the comfort of an air-conditioned SUV, from your own electric scooter, or – for a truly luxe experience! – from above, in a helicopter. Check out the spectacular sight of these bright red cliffs dotting Nevada's Mojave Desert landscape from up high in the sky! 
Now that you're back down on Earth, it's time for dinner. Make your way to Virgin Hotels for a collection of high-class restaurants serving up a variety of casual and gourmet bites. Casa Calavera will charm you with its traditional Mexican dishes and Día de Los Muertos theme. Taco Tuesday happens every week, and live music starts at 8 pm on Fridays. Night + Market is a unique concept restaurant from award-winning chef Kris Yenbamroong, who takes traditional Thai street food and gives it a modern flair. And ONE Steakhouse provides you with a luxury dining experience while also offering the highest-quality cuts. 
Choose your spot and enjoy your to-die-for dinner. It's time for the highlight of Day 2 – an epic Cirque de Soleil performance! If you have never seen one of these mesmerizing shows before, you're in for a treat. You can find several performances running simultaneously in various venues on the Strip, but make sure to buy your tickets early, as the shows do sell out. Whichever one you choose, you're certain to have a multi-sensory experience involving death-defying acrobatics, comedy, beautiful music, and electrifying visuals. Be prepared for sensory overload.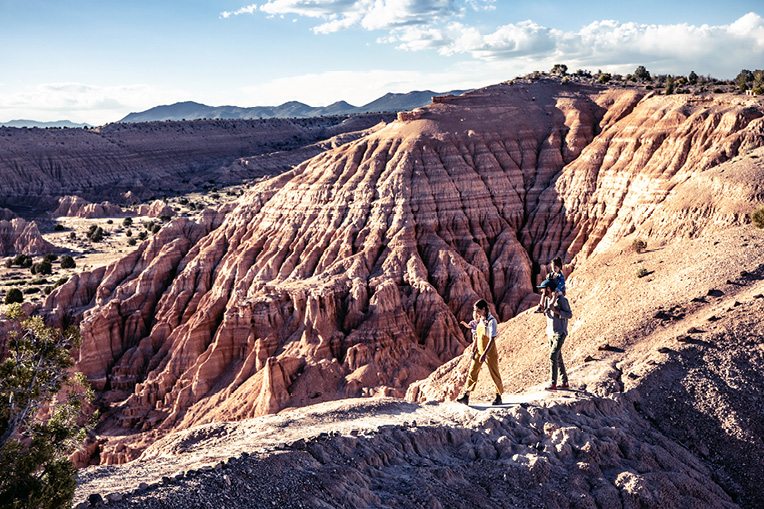 It's your last day in the Entertainment Capital – so make it count! Start off with breakfast at the café or restaurant of your choice. Now it's time for a truly trippy experience. Head to AREA15, an immersive entertainment venue and a wild and wacky wonderland. Check out Meow Wolf's Omega Mart, where imaginative art installation meets interdimensional grocery store. You'll be taken on a journey of discovery and storytelling, through secret portals and into surreal worlds. This is an interactive, one-of-a-kind experience that's especially fun for the kids. 
Time to get aerial! Head to the High Roller, the largest observation wheel in North America, and soar high in the sky, 167 metres above the city. You'll have 30 minutes to take in the panoramic vistas from your spacious air-conditioned cabin. So make sure to have your camera at hand to record your unique 360-degree perspective. 
Hungry yet? It's your last supper, so it has to be truly grand. And you won't find dinner on a grander scale than at the Bacchanal Buffet in Caesars Palace. With nine open kitchens, where chefs prepare specialties from all around the world in front of attendees, you'll go on a culinary tour, exploring dozens of cuisines in 90 minutes or less. Grab a small plate from the roaming dim sum carts, try the new selection of Southeast Asian dishes, or head to the classic carving stations. Just make sure to save room for dessert, like the exquisite earl grey mousse. Yum! 
Hopefully, you booked a late-night flight home, so you can end your time in the city in a way that's as epic as Vegas itself. Take a once-in-a-lifetime night helicopter ride with Papillon and see the famous sights and neon lights of Las Vegas from the best seat in the house. You'll view the Strip casinos, hotels, and attractions all in one breathtaking sky tour!

So there you have it – a three-day itinerary that will give you a true Vegas experience beyond your expectations. Whether you're travelling solo, with a family, or with your crew, the city will welcome you and enthrall you. If you're looking to extend your stay in the area, get out of the city and explore Nevada. Let yourself be swept away into an outdoor playground of mountains, parks, and lakes as you discover famous landmarks and charming little towns. 
Don't wait to book your long weekend adventure down south – Vegas is calling!
Ready to book your Las Vegas vacation?
Made by Canadians, for Canadians. Browse the best travel deals on redtag.ca