If you and your friends are planning a bachelorette to Nashville, here are a few activities to consider. Check out my food, music, neighbourhood and party recommendations for a trip to Music City.
When my good friend Steph announced her engagement, the first thing my group of girls did was start discussing  bachelorette party destinations. As a group of 12 girls that describes ourselves as "fun and organized", we knew that we needed a place where you can party, enjoy good food and indulge in local activities, while having a few things planned in advance. After very little debate and lots of country music listening, we booked our flights to celebrate the Bachelorette Party in Nashville – the new Bachelorette Capital of the World!
In just three days, we experienced this wonderful city and understood why so many people are obsessed with this place. From the talented musicians and music history to the parties and friendly people, Nashville has a charm unlike any city I've visited. Plus, our bride Steph couldn't have been happier – which is all that really matters, right?
If your bachelorette crew is thinking of heading to Music City, check out my list of our favourite experiences Nashville has to offer:
Moonshine Party Tour with Nashville Tractor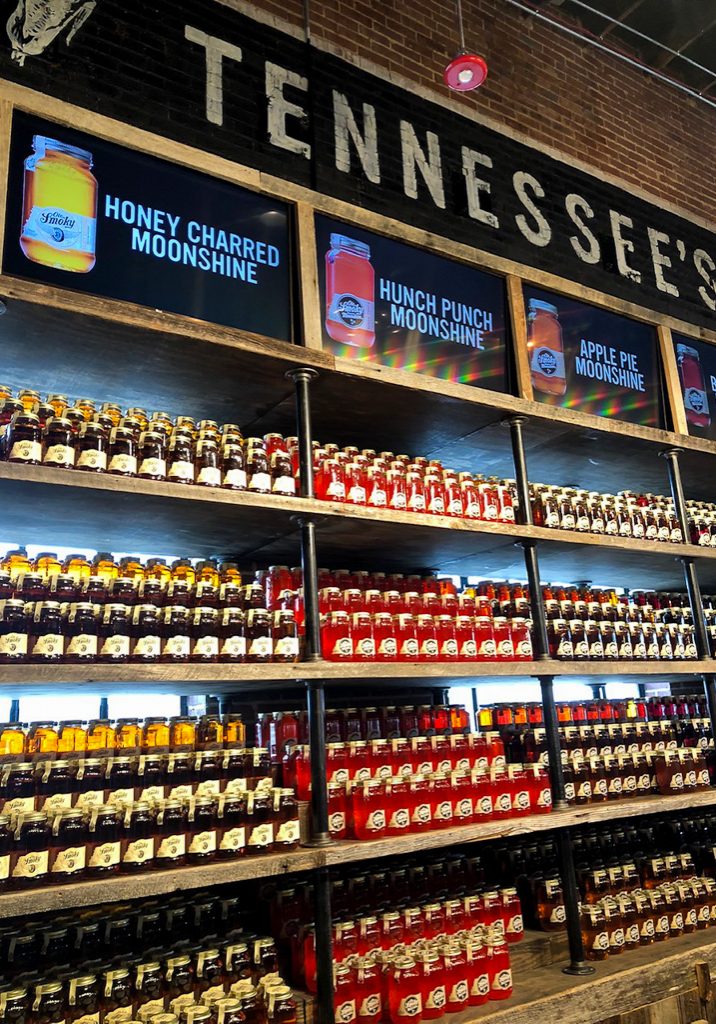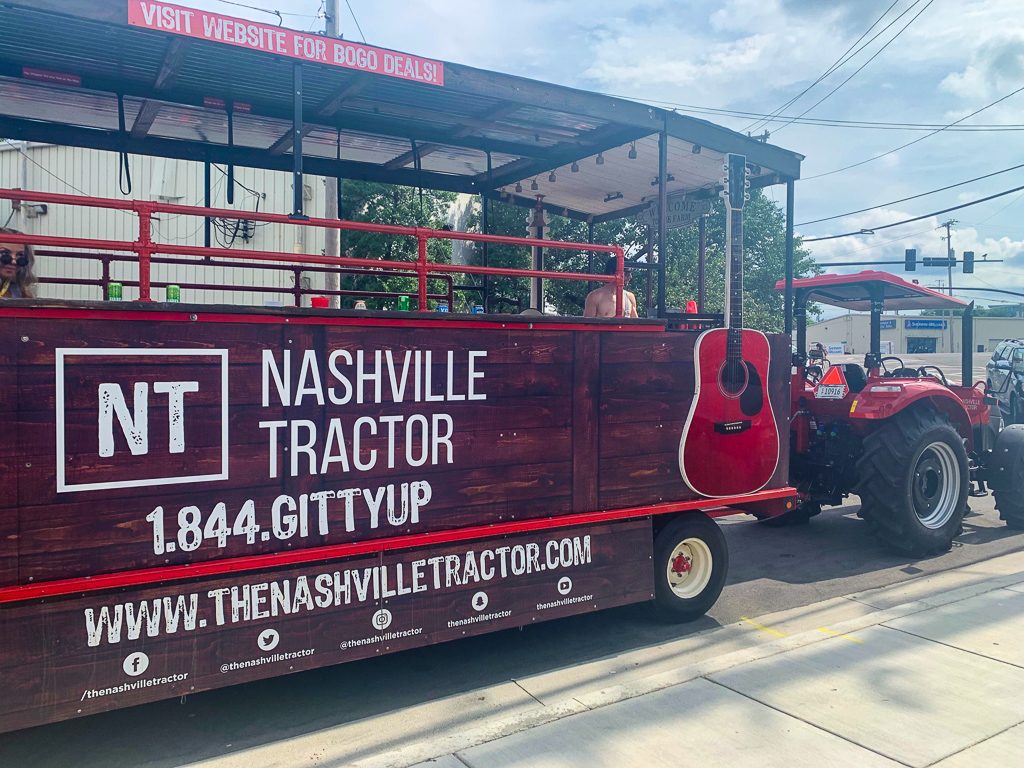 Pedal taverns and bus parties are becoming more and more popular for bachelorettes. However, riding in a wagon being pulled by a tractor is something that can only happen in Nashville. The Nashville Tractor is a company that prides itself on sightseeing and having a good time – without having you do any work. For just $30 a person, or $425 for a private ride, you can enjoy a unique 1.5 hour tour of Nashville while partying in a wagon! We chose to do the private option which was great as we had more space to dance, take pictures and enjoy the ride. Each tractor ride has a driver, onboard bartender and a DJ who acts as a host. The staff was simply amazing. They were able to read the crowd and keep the fun going while providing insightful information about the sites we were seeing along the way. We toured Broadway, Music Row and even stopped at a local moonshine brewery for a quick bathroom break and tasting. This company just opened in 2018 so the rides are in great condition. This is definitely the tour to do for groups looking for a mix of fun and local knowledge!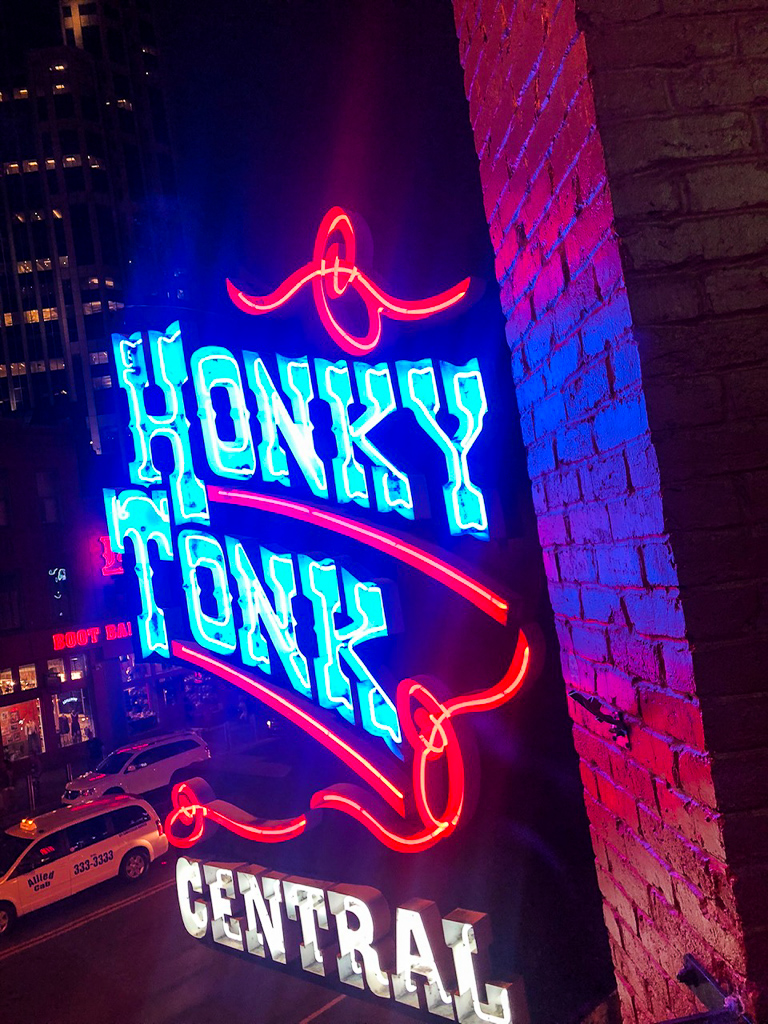 Located right on Lower Broadway, the Honky Tonk Central is a must-see bar that has three levels of live music. To make our bachelorette experience even more special, we decided to rent out their VIP Lounge. It is truly perfect for any group looking for a special night out. The VIP lounge is a big private space, shaped like a music note, overlooking the main stage of the first floor offering an amazing view of the talent playing. VIP guests can enjoy three hours of open bar with no limitations. I'm talking shots, generous portions, mixed drinks and more. There is also complementary snacks that are super filling. The door is locked with a secret code allowing us to leave our belongings and explore other levels of the bar. For the price paid, we got our money's worth and more. We felt like very important people and still got to enjoy the bar's authentic atmosphere.
If you are looking for a totally different experience that doesn't make your bachelorette getaway feel like a cliché, Nashville Toons is for you. Spend three hours out on the lake on your own double-decker pontoon. This is perfect during the summer months when you need to cool off from that southern heat. The pontoon comes up with a Captain and a Helper, who essentially act as party hosts. The boat is fully stocked with floaties, a lily pad, a slide, speakers and a washroom. A shuttle picks you up and drops you off, so there's no need to worry about how to get there. Plus, you bring your own food, snacks, drinks and whatever else you need. Our group had such a blast, we actually begged to stay out longer. The lake was clean, the water was warm and everyone had so much fun.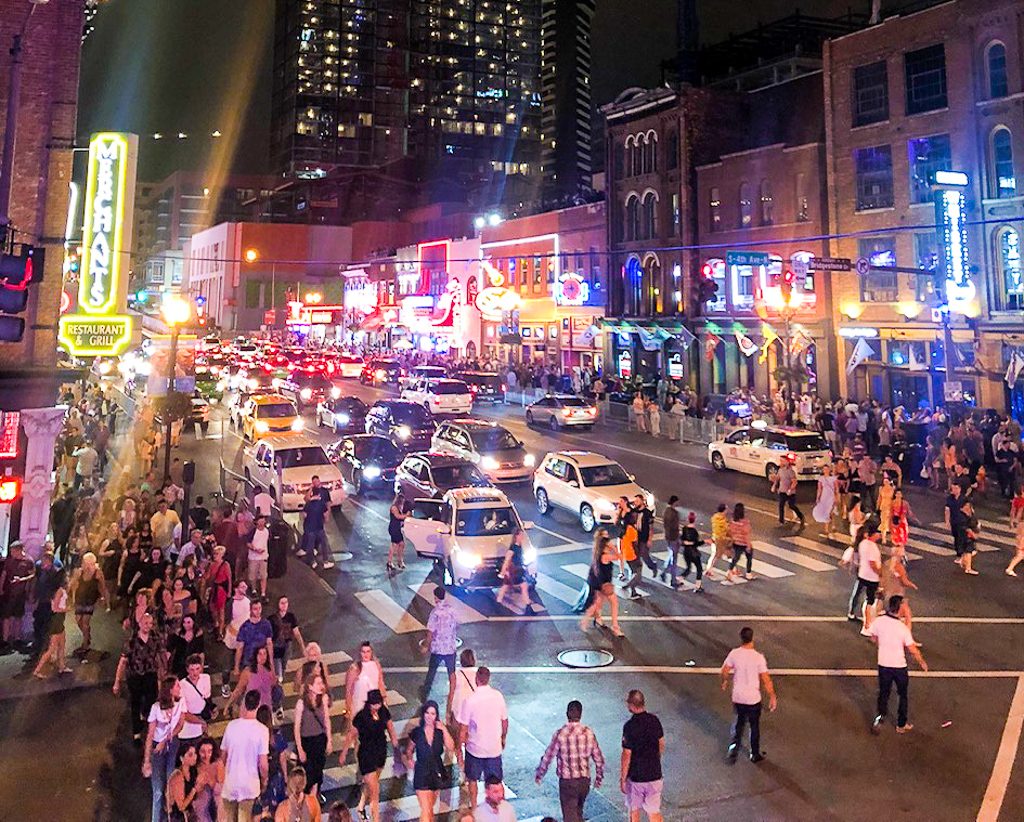 No trip to Nashville is complete without going to Broadway. This famed strip is filled with endless bars, restaurants, live music and history – that's why we loved it so much! Broadway is a great place to experience true Southern honky tonks. We witnessed talented musicians looking for their big break at some of the most famous bars in America. Tootsies Orchid Lounge, a personal favourite, is one of the famous bars on this strip where musicians like Jason Aldean, Taylor Swift and Willie Nelson have performed. It's shocking that the band let me go up on stage and perform an original song knowing those acts have taken that stage! No matter what place we popped into, we were always amazed by the talent and welcoming staff. Right off Broadway, there are museums, attractions and local history monuments we admired while taking a break from the party.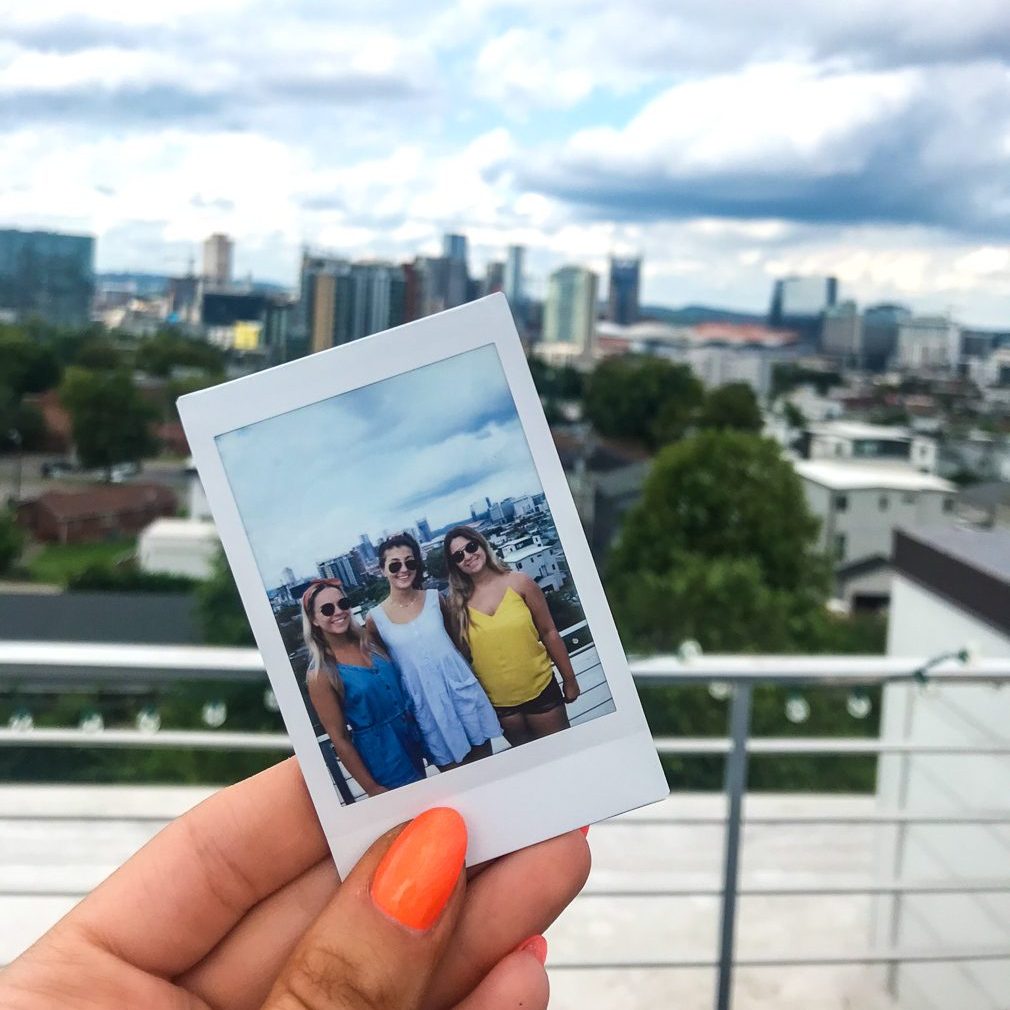 Located between Music Row and Downtown Nashville, The Gulch is a trendy area where you can find cool restaurants, upscale hotels, boutique stores and local entertainment. If your bach squad is into art, there are a ton of art installations to check out. Walk around and explore the area. It is also a great spot to have a big group dinner or brunch before you head off to an activity.
Eat Nashville Hot Chicken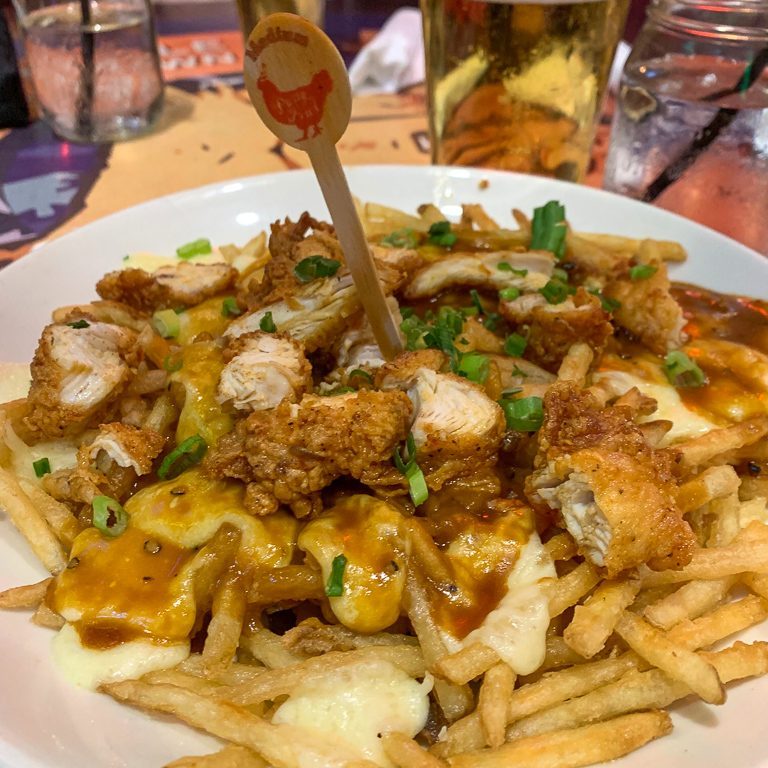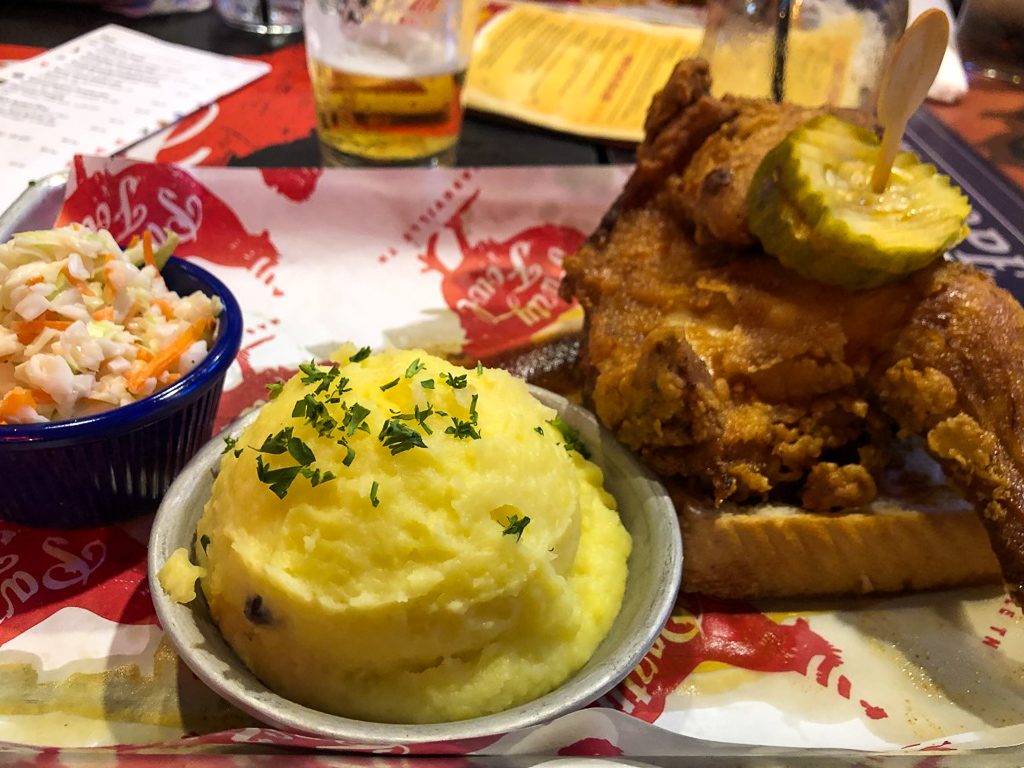 This is a must try dish in Nashville. There are so many places offer this famed chicken that you can't really go wrong where you choose. Our bachelorette crew decided to go to Party Fowl. It is a restaurant that was close to our stay, plus, we had heard good reviews from many Nashville locals. Party Fowl has a ton of different versions of Nashville Hot Chicken. From sandwiches to po boys and even poutine – all the girls were happy with the menu selection. Be forewarned, that the spice is hotter than usual. If you're sensitive to heat, I'd suggest going with a medium or mild chicken.
I hope these suggestions inspire your bachelorette group to book a trip to Music City. If you end up doing these activities, or have other suggestions – let me know so I can plan my next getaway!