February is the month of love... and the perfect time for a romantic getaway! As winter sets in, it might be hard to think of romance. But relationships – like anything else that is meaningful to us – take work, and it's important that you put in effort to nurture them. As Valentine's Day is fast approaching, you should think about ways to show your partner that you truly care.
What better way to show your love than by going on an unforgettable romantic getaway? Book a Valentine's Day retreat, jet-set away in February, and have a memorable romantic getaway with your significant other. Or book a trip now for the summer and take your time planning your romantic getaway together. Either way, you'll be sure to sweep your partner off their feet with a luxurious trip abroad!
And if we're talking romance, there's no better place to celebrate love than in Europe! Home to some of the oldest cultures in the world, Europe won't fail to impress. With so many different cities just a short train ride or flight away from each other, you may be able to experience multiple cultures and cuisines all in one incredible trip! 
Want to make things easier? Book a flight + hotel package for the best deals and to find your home away from home in the romantic destination of your choice! 
So where should you go in order to fully experience the allure of Europe and to have a romantic getaway you won't forget? The redtag.ca team has you covered! We've compiled our top five picks for Europe's most love-friendly cities – so keep reading and discover the place that's right for you.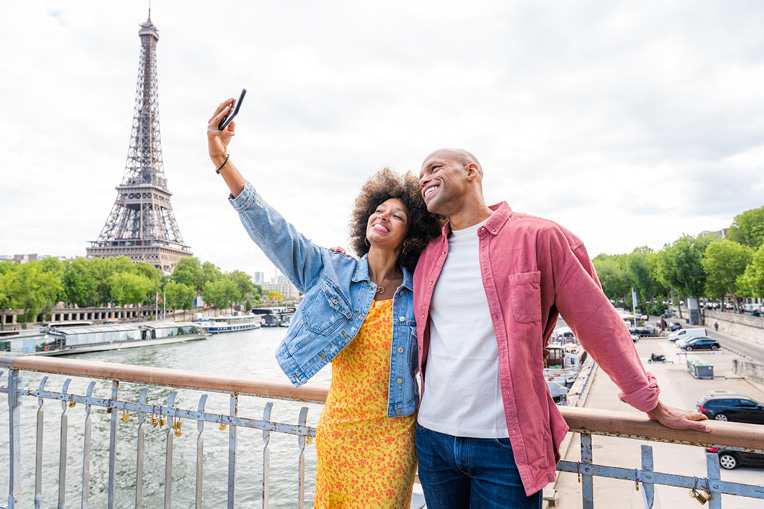 This is an obvious choice – but if you haven't been to Paris yet, you need to book your ticket immediately and discover why couples have flocked to the City of Love for centuries. 
French is one of the most pleasant-sounding languages in the world, and you'll be surrounded by it in la ville de l'amour. It's no wonder that hundreds of TV series and films have been shot in the French capital. From Midnight in Paris to Emily in Paris, this striking city's iconic landmarks and natural beauty have served as the backdrop for countless cinematic romances! 
Head to the "I Love You" wall in the charming Montmartre district to learn how to say je t'aime in over 250 languages. Stroll along the Pont des Arts, a place where couples used to leave padlocks with their names and the date (known as "lovelocks") and throw away the key to immortalize their love. Take a time out for some world-famous Parisian pastries. The Saint-Germain-des-Prés neighbourhood has excellent cafés and patisseries to choose from.
Hungry yet? Then head on a romantic cruise on the Seine river, where you can enjoy quality French dining in comfort while watching the sunset with your special someone. If boats are not your thing, choose one of the many high-class restaurants along the Seine for romantic dining on land. French cuisine is to-die-for – make sure you don't leave Paris without trying the boeuf bourguignon, coq au vin, and the bouillabaisse. Save some room for dessert, though! We recommend the crème brulée, which will give you the perfect dose of sweetness to cleanse your palate after a full French meal. 
Want to fly away to Paris on a romantic getaway? Find the lowest rates and flexible flights, whether you want to leave now or in a few months.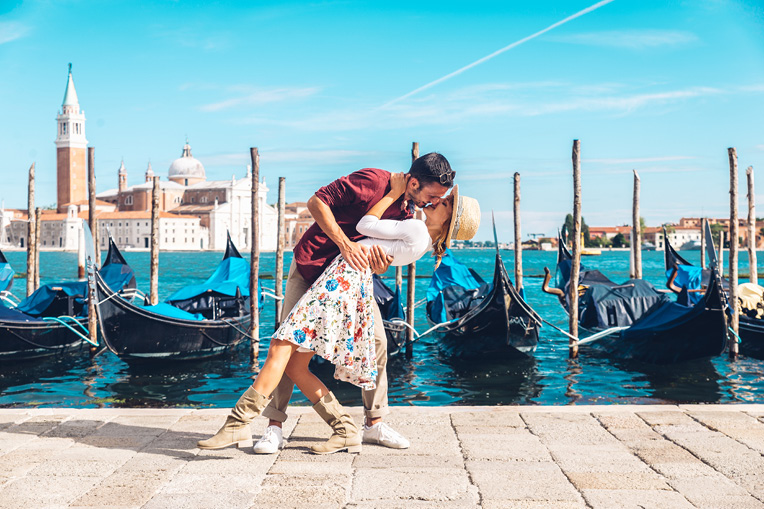 Moving out of France and down south to Italy, another romantic destination that can't be missed is the incomparable Venice! Known for its many canals and bridges, stunning architecture, and singing gondoliers, Venice is a real charmer. You'll have no trouble reigniting the spark with your partner in this northern Italian city. 
A sunset gondola ride has to be at the top of the list for romantic activities in Venice. Book one in any major tourist area and view old palaces and city sights as you cruise along the Grand Canal in style. Cuddle up with your significant other and share a bottle of wine and watch as the sky changes from one magical hue to the next until all you see is a carpet of twinkling stars. 
You're in Italy, so wine and freshly cooked northern Italian cuisine are in order. Restaurants abound along the canal, and there are also plenty of rooftop terraces that will give you an elevated view of the city. So have a seat, order some antipasti to start, and peruse the menu for the Venetian dish that speaks to your heart (and your stomach!). If you're a seafood lover, you're in the right place! Try the risotto al neri di seppi, a flavourful Venetian specialty made with squid. 
If you're aching for some culture on your romantic getaway, head to the renowned Teatro La Fenice, and you'll be in for a musical treat! Located in San Marco, the heart of Venice, this elegant opera house offers ballets, classical music concerts, and, of course, opera. Book your tickets well in advance and enjoy a night of music and culture with your special someone in this 18th-century Venetian treasure.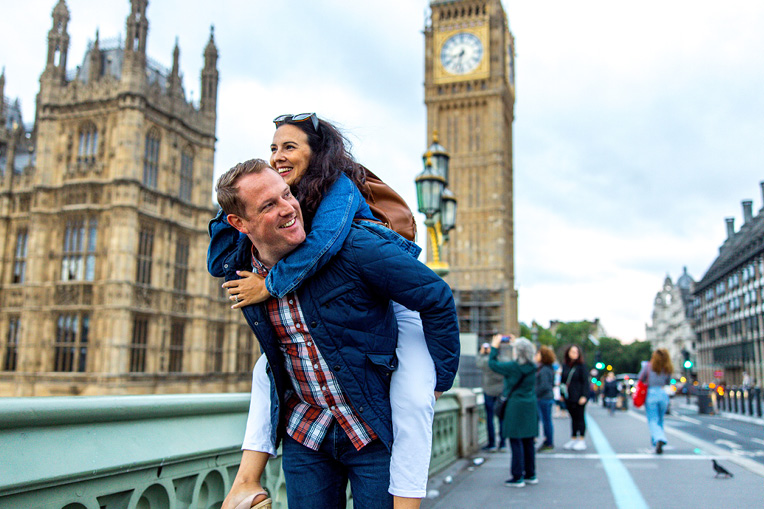 London may not be known as a place for romance but don't let the hustle and bustle of this metropolitan capital fool you – London is a fantastic place to rekindle a relationship, and it offers countless beautiful areas for romantic rendezvous and date nights. 
If the weather allows for it, why not have a picnic at one of the eight Royal Parks? A great spot for a day or sunset picnic is in St. James Park, where you'll be treated to a view of the Buckingham Palace, or Hyde Park, by the serene Serpentine Lake. 
If the weather isn't picnic-worthy, head indoors to one of London's many famed pubs, whether it's a posh riverside pub by the Thames, a summery beer garden, or a quirky haunt with lots of character. If you're travelling in the colder months, you'll find that many pubs have working fireplaces and even offer board games! So grab two cozy armchairs, sit fireside, and enjoy some craft beers and a few games with your special someone. 
Want a more aerial view of this extraordinary megalopolis? Then head over to the London Eye, the world-famous observation wheel on the South Bank of the Thames. For the ultimate romantic gesture, book Cupid's Pod and view London's incredible skyline while enjoying luxury chocolates and glasses of bubbly together. 
Another activity that will have your partner swooning is stargazing at the Royal Observatory in Greenwich. This fun night out is equal parts nerdy and entertaining – the perfect date for a couple that enjoys the quirkier things in life!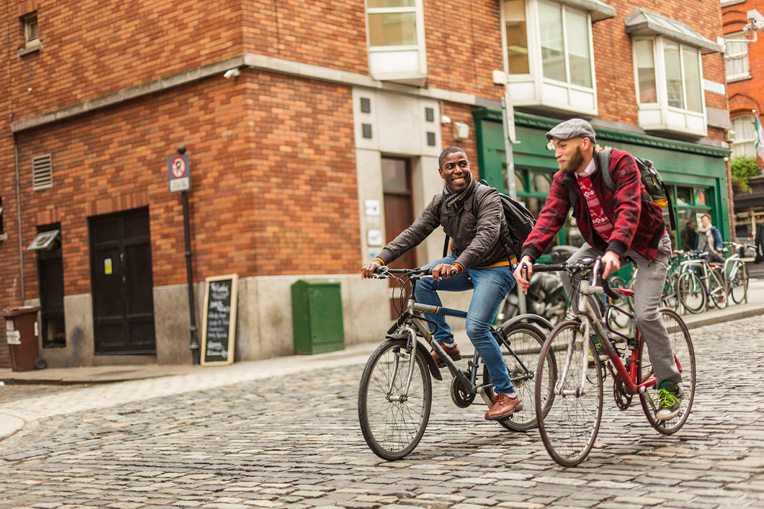 Moving across the pond, Dublin is next on our list for top romantic getaways! Interestingly, this city has a unique connection to St. Valentine, the patron saint of love. His remains are buried underneath the Whitefriar Street Church, and although his shrine is visited throughout the year, the most popular day is, of course, February 14. Admire the stunning interior of this beloved landmark and have a moment of peaceful contemplation with your partner here.
Another place dedicated to romance is "Love Lane", an open-air art installation in the Temple Bar district. Experience art and romance as you leisurely stroll down this alleyway hand in hand, and make sure to take a selfie with your significant other to commemorate your own love!
People often forget that Dublin, a major European city, is close to areas of striking natural beauty. But the famed Cliffs of Moher and the harbour city of Galway, both featured in countless TV shows and movies, are just a few hours away. Stroll along the 200-plus-metre cliffs and take a peek at the roaring ocean below.
When you're back in Dublin, prepare yourself for high-quality entertainment and an unforgettable experience with an Irish music and dance show. You'll both be tapping your fingers and feet to the lively music and trying to learn Irish step-dancing. While you're there, treat yourself to a couple of pints and enjoy the uniquely Irish atmosphere. Sláinte!
Looking for a unique place to stay? The city offers plenty of castles, converted into luxurious hotels, for you to put up your feet at the end of the day. Explore Dublin by day, and live like the queen or king you truly are at night.
For the best rates on top hotels in and around Dublin, head here and save on your next stay!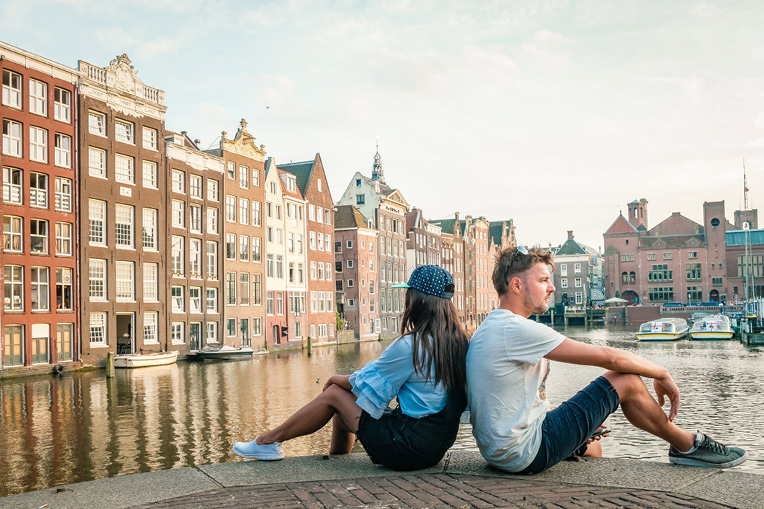 The last place on our list of love-friendly European cities has to be Amsterdam. While the capital of the Netherlands is much more well-known for its nightlife and coffee shops, it's also a romantic city brimming with gorgeous greenery, excellent food, warm people, and postcard-worthy locales. If you're looking to spice things up with a partner who is fun and adventurous, look no further than Amsterdam for your romantic getaway.
The city's Canal Ring is a fantastic place to start your journey. To experience some of the 165-plus canals with your honey, rent a pedal boat from the city centre and meander through them at your leisure. You'll see historical buildings and unique homes as you pedal along – the water is truly the best place to view Amsterdam!
If you crave privacy, you can book a canal cruise for two. Most come with some bubbly, so enjoy a glass of Prosecco with your partner as you drift beneath bridges and gaze at an epic sunset from aboard your comfy private boat.
You can also do as the locals do and explore Amsterdam by bike. It's remarkably flat and has plenty of dedicated bike lanes, so you don't need to be a Tour de France champion to cycle your way through the city. Tandem bikes are also available, so rent one to share. Have fun, live in the moment, and enjoy your couple's bike!
If you're visiting Amsterdam in the springtime, then a visit to Bollenstreek is an absolute must! Fields of flowers abound, filling the area with colour, vibrancy, and pleasing scents. If you're around in mid-April, stop by the Keukenhof Gardens for hectares of tulips, the Netherlands' national flower. Either way, being in the sunshine around thousands of colourful blooms is an excellent way to kickstart that loving feeling!
Whichever city you choose to visit for your romantic getaway, you won't be disappointed if you head to Europe! Find the best offers on European vacation packages and sweep your love off their feet with the gift of travel this Valentine's Day.
Ready to book your romantic getaway to Europe?
Made by Canadians, for Canadians. Browse the best travel deals on redtag.ca