Transporting you to Italy with this simple and delicious Risotto Recipe with Zucchini and Shrimp. Prepared by Executive Chef Andrea Censorio.
Risotto Recipe with Shrimp and Zucchini
Ingredients:
3-5 tablespoons olive oil 
Vegetable stock:
Method:
1. Start the vegetable stock by washing and peeling carrot, onion and celery and chop into large pieces.  Place into a pot add about 3-4 litres of cold water & bring to a boil, let simmer for 30 mins and strain. 
2. For the Risotto, start out by cleaning and cutting your zucchini on a bias, dice your onion and clean your shrimp. Place them all in separate bowls. In a medium shallow pot or pan, start by adding 2 tablespoons of olive oil and smashed garlic clove, infuse on medium heat and then add all the zucchini and a pinch of salt.
3. After 3 mins add shrimp and a pinch of salt.  Cook for about another 3 mins then add 1/4 cup of white wine, let reduce for about 2 mins and turn off heat.
 Remove garlic and discard. Remove all zucchini and shrimp from pan into bowl and set aside. 
4. In the same pan on medium heat add 1 tablespoon of butter and 1 tablespoon of olive oil.
Add diced onions and sauté until translucent about 5- 8 mins.
Add rice and "toast" constantly stirring on medium heat for a few minutes. 
Add 1 teaspoon salt and 3/4 cup white wine and let reduce. 
From the moment you add the wine set a 15 min timer.
5. On medium high heat, gradually add hot vegetable stock to rice, one ladle at a time, stirring constantly.  When the liquid is absorbed by the rice add another ladle of vegetable stock. Repeat this for 15 minutes.
When completed, taste rice to see if it's cooked to your liking.  If it is still raw, continue with vegetable stock for two more minutes until liquid is absorbed. 
Add your zucchini and shrimp into the rice, table spoon of butter, some extra virgin olive oil and salt to taste. 
** To make this recipe without the Shrimp, simply add more zucchini instead, and finish with 1/4 cup of Parmigiano cheese and a table spoon of butter off the heat.
Plate and enjoy! Buon appetito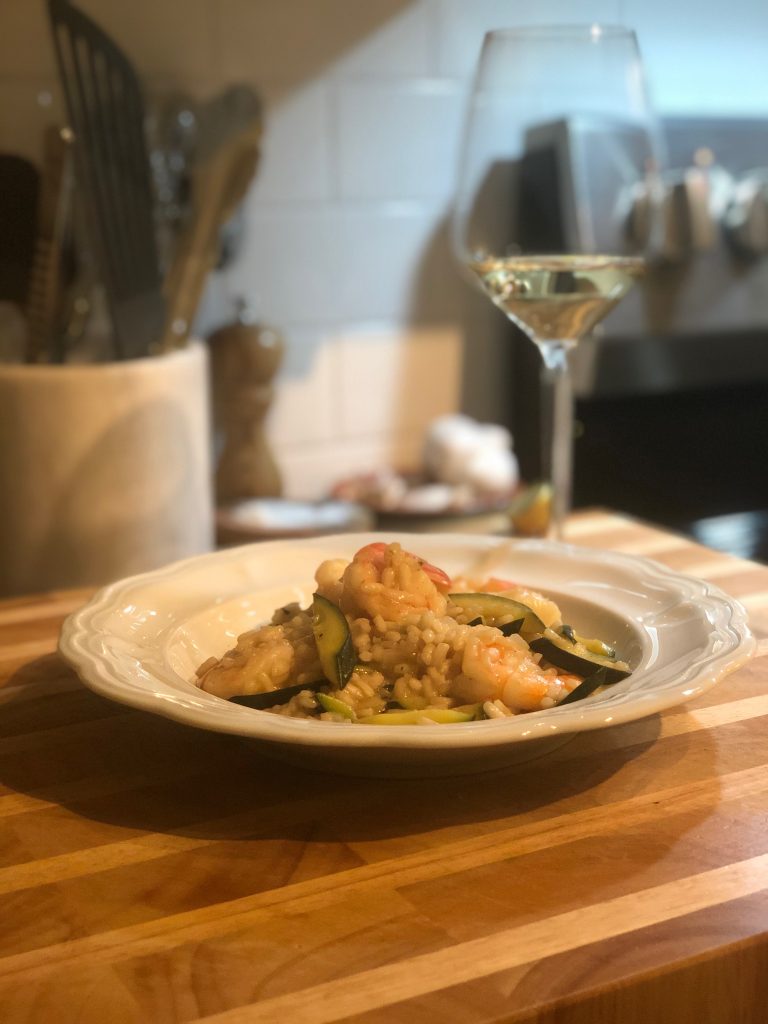 Video not specified. Please select one to display.