Which Karisma Hotels & Resorts Is The Right Choice For You?
When we hear the word "love", it is often in reference to romantic love. However, love can be defined in many ways. From the ancient Greeks to Cosmopolitan, everyone seems to be asking: "What is love?"
Well, unfortunately, we don't have the answer. But we will talk about four important kinds of love that most people have likely experienced.
If you're still trying to think of a way to show a loved one how much you care, then go no further. Here's an idea: take that person away on an unforgettable vacation!
Karisma Hotels & Resorts has a wide array of incredible properties for you to choose from. So which one is best for you? Well, it depends on what kind of love you want to celebrate! Let's take a look at four types of love, in the words of the Greeks.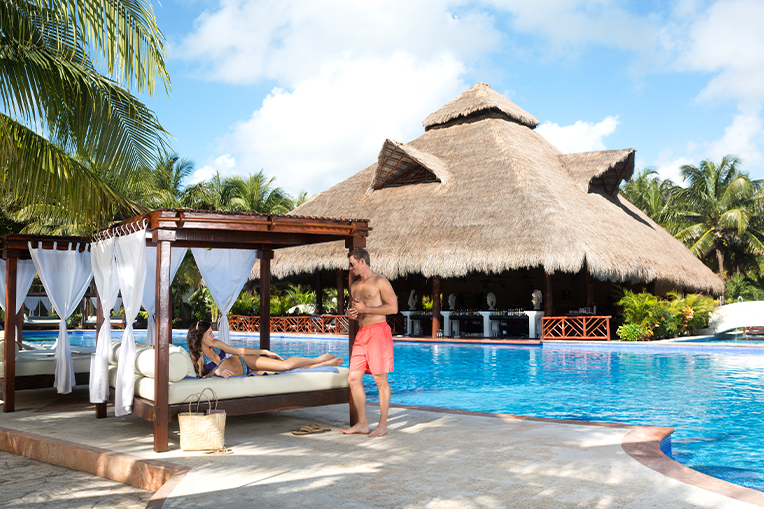 Eros is the love we're most familiar with – from Bronze-Age cave drawings to modern rom-coms, this love is the one that has been depicted the most.
It makes sense. This person shares our joys and burdens and is with us through thick and thin.
However, romantic relationships can be strained over time when people take each other for granted.
One of the best ways to improve a relationship is to spend quality time together. So why not take the opportunity to show your partner your love? The gorgeous El Dorado Royale in Riviera Maya, Mexico, is the perfect place to reignite that romantic flame!
Book the Beachfront Honeymoon Suite for the ultimate privacy. You'll wake up each morning to the warm Caribbean breeze and the smell of fresh flowers. You'll also have your own hot tub, for full relaxation, and you'll be steps away from the beach. El Dorado Royale is a premier adults-only resort, so you can expect peace and tranquility during your stay.
For some people, food is the way to their heart. If this sounds like you, then you'll enjoy the ten elegant à la carte restaurants available to you. Feast on Italian, Mexican, Caribbean, or Japanese cuisine in beachfront settings with charming ambiance. You can also enjoy a post-dinner cocktail at the romantic Bellinis Bar or go for a night stroll along the shore.
Want to celebrate your love in a much more epic way? El Dorado Royale also offers different packages for you to say "I Do" in style, with the Always & Forever Package, the Vow Renewal Celebration Package, and the South Asian Wedding Experience.
Whichever way you choose to celebrate your love, you'll do so against a gorgeous Caribbean backdrop, and you'll walk away with everlasting memories.
Philia (deep, long-lasting friendship)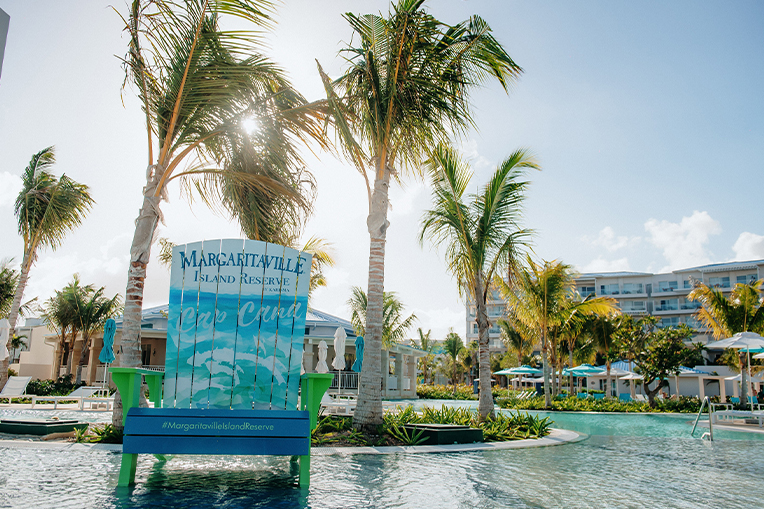 Friends are the family you choose. These are the people who are there for you because they want to be, not because they have to be. They are there for you in your happiest moments – weddings, baby showers, birthdays – as well as your saddest ones. And yet, friends are often prioritized the lowest, after work, partners, children, and family members.
But now is the time to celebrate true friendship. Our best pick for embracing philia is the extraordinary Margaritaville Island Reserve Cap Cana in the Dominican Republic. Whatever vibe you and your crew of besties is feeling, this place has got you covered!
Are you and your friends the quiet, meditative type? Do you enjoy peaceful experiences in nature and reflective discussions? Then start your morning with some invigorating sunrise yoga. Afterwards, you can grab a spot on stunning Juanillo Beach and soak up the sunshine and waves. Book your crew in at the St. Somewhere Spa and soothe your sun-kissed skin with some royal pampering.
Is that too tame? Are you and your group more likely to be trekking in the mountains or competing in a CrossFit tournament? Not to worry! There are plenty of sporty activities to keep you and your fellow athletes satisfied. A beach volleyball tournament is sure to get the competitive juices flowing. There are also cornhole and pickleball tournaments, paddle boarding competitions, and tennis courts for you to enjoy.
At Fins Up! Fitness Center, you can make sure you're on track with your workout program. Even when you're on vacation, you can't miss Leg Day! Enter the beachside Flip-Flop Olympics as well and cheer on your friends as they make it to the podium in the Flip-Flop Toss.
Are you and your pals high-energy extroverts who enjoy meeting new people? Then Margaritaville's many social events are the place for you and your buddies to mingle! Try an exciting mixology class to whip up the perfect signature rum cocktail. Head to one of the regular pool parties to dance the day away to live DJ sessions. End the night by heading to Gourmet Village and jamming out to a local Trop Rock band.
No matter who you and your besties are, you'll definitely find a way to strengthen your friendship and share new experiences together in the exquisite Margaritaville Island Reserve Cap Cana.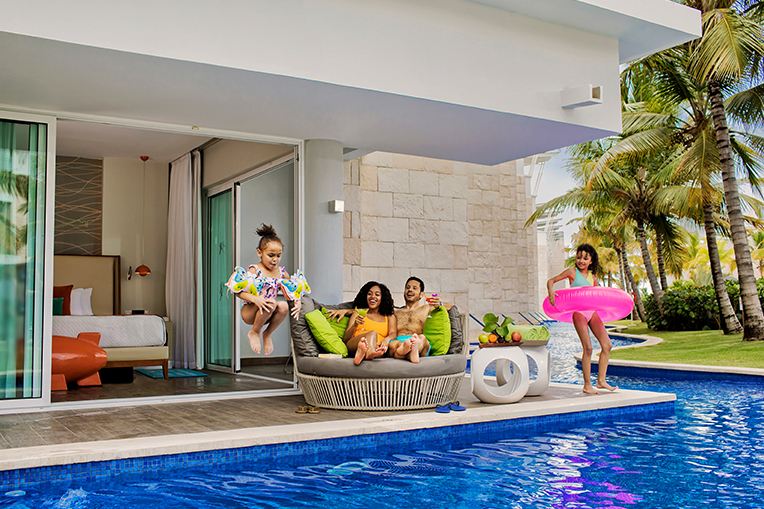 Storge is different from other kinds of love, because it is often unconditional and it will likely be your longest relationship. Your partner may have been around for the last decade, but your mother has been with you since you were born – and she's seen everything! She remembers every temper tantrum and bad decision – and she loves you despite it all.
How better to repay your family for all their love and generosity, or bond with your little ones, then by going on a family trip together? For family-friendly vacation spots, we recommend the Nickelodeon Hotels & Resorts Punta Cana in the Dominican Republic. This magical resort offers endless ways to connect with your loved ones in a fun-filled environment.
First thing in the morning, head to the Pajama Jam breakfast, where your children can meet their favourite Nickelodeon characters, like SpongeBob SquarePants. They'll also meet them at Aqua Nick, the legendary water park, replete with tons of thrilling rides and games.
Enjoy global cuisine at the World Marketplace, where you can try tasty treats and signature dishes from all over the world, including Dominican cheeses. Look for some surprise culinary pop-ups too!
If this is too much excitement, just stay inside or poolside. Enjoy beautiful ocean views from your suite's balcony, float along AquaNick's lazy river in a water tube, or just chill on the shore in your own Bali beach bed.
Whatever you choose to do, you and your family will have a truly amazing vacation!
Philautia (love for oneself)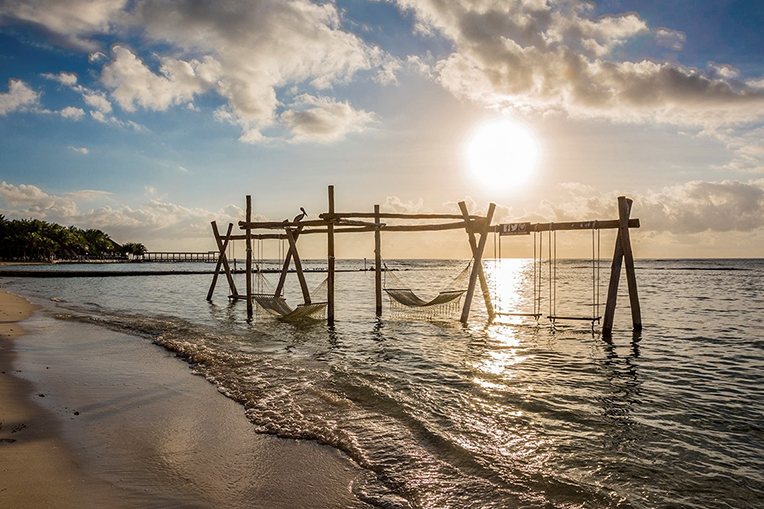 When asked "Who is the most important person in your life?", newlyweds will often list their partner. Parents will answer with, "My child". And children will usually state their mother or father.
It's a subjective question – however, all the above answers are wrong. The most important person in your life is YOU. How can you show up for others when you're not taking care of yourself? Why do you think flight attendants always tell you to put on your own oxygen mask before helping others? Because you can't save anyone else if you don't first save yourself.
So, in the month of love, we ask you to make philautia a priority. Whisk yourself away to paradise and treat yourself like the queen or king you are! Our recommendation for your self-love vacation is the adults-only El Dorado Seaside Palms in Riviera Maya, Mexico. Check into the Premium Swim-Up Junior Suite and step right into your own exclusive pool with beach beds and a pool butler service.
Then, head straight to the on-site Náay Spa, which was built with the Mayan elements of Fire, Earth, Water, and Wind in mind. Enjoy the Ayurvedic "Raindrop" treatment for a therapeutic and relaxing experience. Or soothe your dehydrated skin with a unique Mayan Body Wrap.
Prioritizing yourself also means taking the time to do the things you enjoy. At El Dorado Seaside Palms, you can also satiate your artistic passion with coconut painting. You can indulge in yoga, Latin dance, kayaking, or snorkeling – choose the activities that bring you the most joy!
It's time to practice the self-care you've neglected over these last months – or years – and put yourself first!
----------------------
Whichever kind of love you're celebrating this month, these stunning resorts will help you to reconnect with those you care about and allow you to create beautiful memories you'll never forget!
Ready to Book your Caribbean getaway?
See the world your way. Browse Karisma Hotels & Resorts on redtag.ca.