Looking for the perfect summer adventure? A road trip might just be the answer. With ultimate freedom and flexibility, a road trip allows you to choose the stops, activities, and hotels that best suit your needs and lets you change plans at a moment's notice. We've compiled a list of four of the world's most spectacular road trips, including the Gaspésie, the Southern Pacific route, and the Peloponnese.
Summer is just around the corner (hard to believe, as you're clearing the snow off of your windshield for the thousandth time)! Have you started planning how you'll spend the best time of the year? 
If you're looking for a way to travel that will give you the ultimate freedom, allow you to be flexible, and provide you with incredible sights, then you should consider road-tripping this summer. 
A road trip lets you select the itinerary that's perfect for you and your crew – you choose the stops, the activities, and the hotels that suit your needs, and you never need to compromise. You can also be spontaneous – if you change your plans at the last minute, it's no problem at all. You're not on anyone's schedule but your own. And driving can often be the most convenient and affordable way to travel, especially if you split the cost of the car and gas with others. 
Need some inspiration for your next summer adventure? The redtag.ca team has compiled a list of four of the world's most spectacular road trips! So if you're ready to go on an amazing road trip this summer, read on. 
And for excellent rates on car rentals all over the world, head here and let the adventure begin.

The Gaspésie, Québec
Canada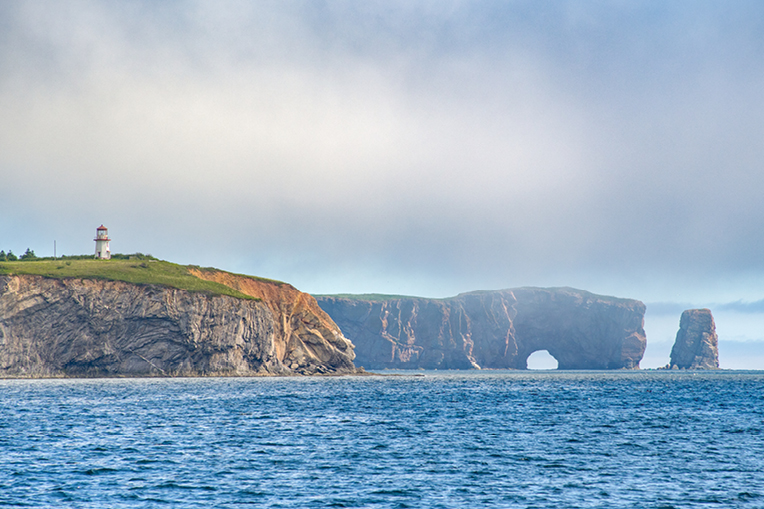 This summer, enjoy the Gaspésie, a rugged peninsula jutting out into the Gulf of Saint Lawrence that offers gorgeous views of pristine coastline and untouched nature. 
The legendary Bas-Saint-Laurent–Gaspé loop is roughly 1,270 kilometres and can take around ten days, depending on your activities and length of stay in each town. Along the way, you'll be treated to a fresh sea breeze, unbelievable greenery, and exquisite seafood dishes. 
Head to the city of Rimouski, where you can find the Pointe-au-Père lighthouse, one of the tallest in the country, and learn the history of the Empress of Ireland's sinking, Canada's worst maritime disaster. Book an excursion to Bonaventure Island, where you'll see a colony of around 110,000 northern gannets.
But no trip to the Gaspésie is complete without indulging in some of the seafood delights that the area is famous for. Try some fresh and deliciously seasoned lobster or snow crab or snack on a shrimp guédille for a uniquely Gaspesian treat. 
Whatever you choose to do, a trip around this scenic loop is the perfect way to enjoy a bit of adventure, experience nature at its finest, and explore one of the most beautiful coastlines in Canada. Find the road-tripping vehicle that's best for you here. 

The Southern Pacific Route
United States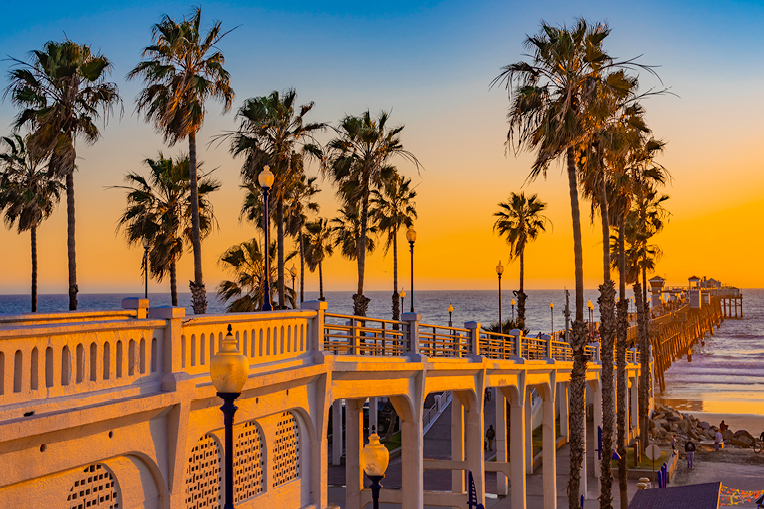 If you're looking to spend a lot more time on the road and don't want to be confined to Canada's borders, head down south. The U.S. offers a number of spectacular options for cross-country travel that you can't miss. 
Got a few weeks to spare? Then the classic Southern Pacific route, following the Old US-80 Highway, is for you! Covering 4,828 kilometres and crossing through stunning landscapes, this road trip will take you from San Diego to Savannah. You'll start with a view of the Pacific and end with one of the Atlantic. From coast to coast, you'll get a wide taste of American regional cuisines, music, and cultures. Are you ready? 
Fly into sunny San Diego – you can find the best deals on flights down south here. Stroll through verdant Balboa Park, where you'll find striking botanical gardens, theatres, and the San Diego Zoo. As you drive eastbound, you'll see dramatic deserts from out of a Western movie, with golden sand for miles around and the iconic saguaro cacti dotting the landscape. 
Explore the Anza-Borrego Desert State Park in Jacumba, California, to see breathtaking views of canyons, badlands, wildflowers, and cactus blooms galore. For all things extra-terrestrial, spend some time in Roswell, New Mexico, the site of an alleged UFO crash in 1947. 
Continue east into Selma, Alabama, and follow the Civil Rights Movement National Historic Trail. Finally, you'll end your road trip in Savannah, Georgia, a charming coastal escape where you'll experience the true meaning of southern hospitality. 
Need a car to get you from coast to coast? Check out our offers for the vehicle that'll get you there.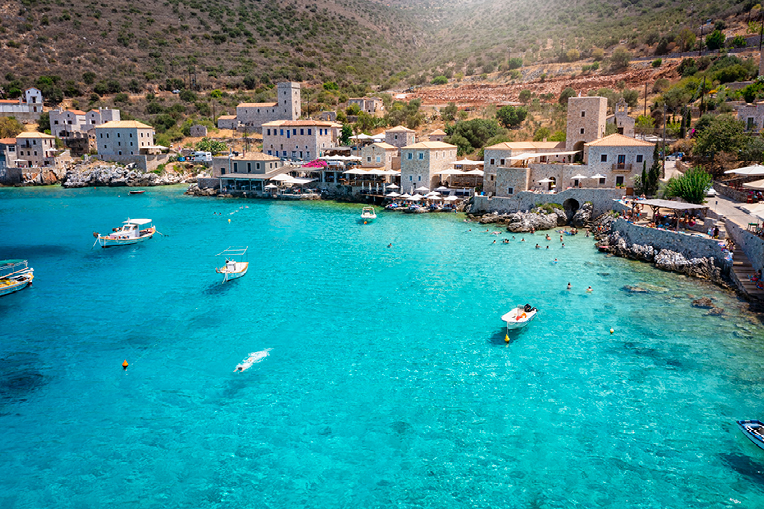 To experience ancient culture, sun-soaked mountainside views, world-famous cuisine, and that beach life, look no further than Greece! A 600-kilometre trip over 7-10 days in the Peloponnese, the peninsula just two hours southwest of Athens, will give you an excellent introduction to Greece and have you wanting to return for more. 
Fly into the capital city, where you'll be able to pick up a rental car easily and get your first taste of the country. For flexible and affordable flights to Athens, head here and find today's best rates. 
Once you leave the city, you'll have a relaxing drive along well-paved coastal and mountain roads. Take a romantic sunset stroll along the Arvanitia Promenade and try the best of Mediterranean cuisine in Nafplio, a dreamy seaside resort town. Order a variety of mezédes to share, or surprise yourself with a daily special made with fresh local ingredients at one of the many restaurants overlooking the beach. 
Enjoy sweeping views of the Peloponnese from Mystras, a UNESCO World Heritage Site located on Taygetos Mountain near ancient Sparta. Journey through the Caves of Diros in Laconia by boat and explore this entrancing underground network filled with strange rock formations. Experience rural life through harvesting olives and grapes and learning about beekeeping, wine-making, or traditional Greek cooking. 
It's best to visit the Peloponnese anytime from May to October, but avoid going in August, when temperatures are scorching and summer travellers pack the main sites. Make your Peloponnese road trip dream a reality with the car of your choice.
Maya Ruins & Mexican Caribbean
Mexico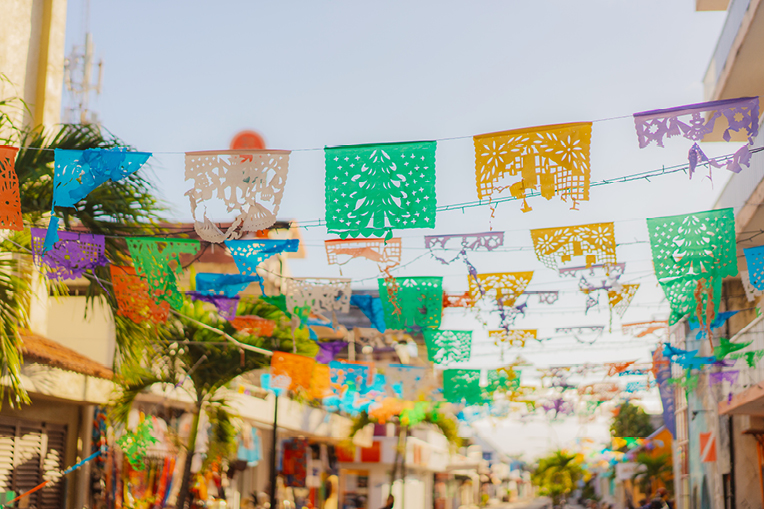 Embark on a 1,100-kilometres road trip on the Yucatan Peninsula is an adventure that will leave you captivated by the natural beauty, rich history, and unique culture of the region. As you set off on the loop route, you'll be treated to a diverse range of experiences that will satisfy your thirst for exploration.
Begin your journey by cooling off in one of the region's cenotes in Valladolid. These limestone sinkholes are natural pools that the ancient Maya believed to be gateways to the underworld. Take a dip in the crystal-clear waters and soak up the serene surroundings before hitting the road towards your next destination. 
Make sure to visit the impressive Maya ruins of Chichen Itza, but arrive early to avoid the crowds. The site is home to iconic landmarks such as the Kukulcan Pyramid, a marvel of ancient engineering. If you're a foodie, don't miss the opportunity to indulge in the regional cuisine in Mérida, Yucatan's colonial capital. The city is renowned for its extraordinary culinary scene and vibrant cultural offerings, making it a must-visit destination. 
As you continue on your journey, head southeast to explore the seldom-visited Ruta Puuc. Here, you'll find rolling hills dotted with Maya ruins, a testament to the region's rich history. The journey east takes you along the Mexican Caribbean, where you'll encounter the impossibly blue waters of Laguna Bacalar. Tulum's dramatic clifftop ruins and primo reef diving in Cozumel and Puerto Morelos round off this spectacular road trip. Take time to savour the flavours, sights, and sounds of the Yucatan Peninsula on this adventure of a lifetime. 
Reserve your seat on the next flight to Mexico, with flexible options available. And are you looking for the perfect road-trip vehicle for your journey in Mexico? Look no further – head here for the best rates on rentals.

Ready to book your summer road trip?
Made by Canadians, for Canadians. Browse the best travel deals on redtag.ca