Planning to celebrate Cinco de Mayo? Here are four ways to really enjoy the May 5th festivities!
Why is Cinco de Mayo celebrated?
Cinco de Mayo, the Mexican holiday that – strangely – is celebrated more outside of its country of origin, takes place today, on the fifth of May! Also known as the Battle of Puebla Day, this holiday's origin story would fascinate any history buff – although, most people around the world are simply familiar with it as a day to enjoy a good margarita with friends.
The Battle of Puebla is the David versus Goliath story of the nineteenth century. French forces were sent to Mexico by Napoleon III to collect an unpaid debt from the economically devastated country. And just like the famed Goliath, the French battalion – who remained undefeated for the previous fifty years – grossly underestimated their opponent. The army of 6,000 French troops quickly set out to attack the town of Puebla de Los Angeles in east-central Mexico.
The "David" in this story was a ragtag group of around 2,000 Mexican fighters, some of whom were armed with only machetes and wooden spears. The French outnumbered them by around three to one (although estimates on their size vary), and victory was nearly certain. But on that auspicious day, French soldiers eventually found themselves retreating in the face of a fierce, courageous enemy and mounting casualties on their side.
This triumph against foreign aggression is still observed in Mexico to this day, but mainly in the state of Puebla. During the civil rights movement in the United States, Chicano activists popularized it as a day to show pride in their Mexican heritage. From there, its popularity grew as it became more and more commercialized. But the spirit of the holiday should be remembered, even as you're sipping on your tequila. Cinco de Mayo commemorates the courage of the Mexican people, and it's a special day to showcase their unique culture, traditions, and cuisine.
How to Celebrate in Style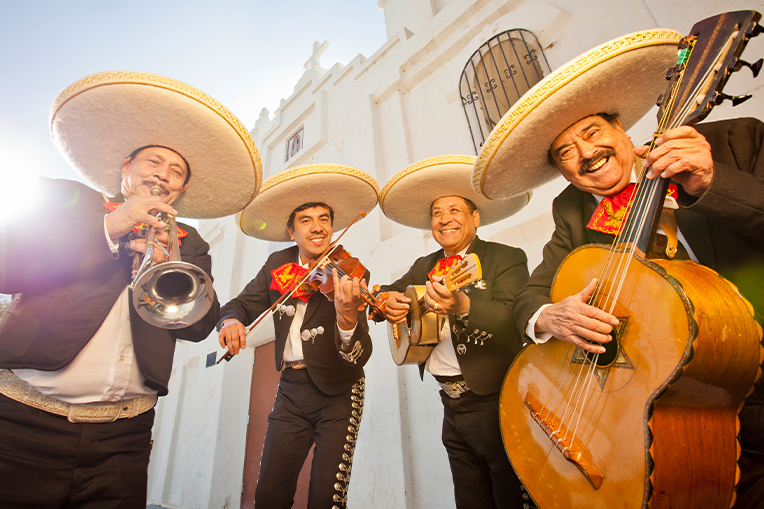 The present-day Cinco de Mayo celebrations look nothing like the early festivities in the town of Puebla, which were replete with militaristic parades and serious reenactments of the famed battle. Instead, the internationally recognized holiday involves the enjoyment of Mexican dishes, tequila and other spirits, live performances, and festive parades and costumes.
Whether or not you're planning on heading to Mexico this year, we want to highlight some of the ways you can embody the Cinco de Mayo spirit!
#1: Fill up to your heart's content on delicious Mexican cuisine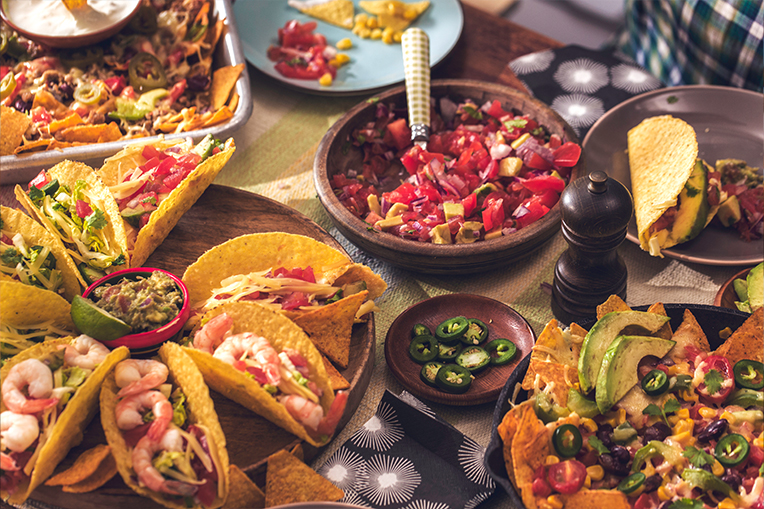 The best thing about any holiday? Enjoying the food that comes with it, of course! On Cinco de Mayo, make sure to try the best of Mexican cuisine, from traditional staples like molé and tamales to favourites popularized in North America like tacos and tortilla chips.
Start your day off right with some huevos rancheros, the perfect breakfast food to kick off a celebration! Warm corn tortillas and fried eggs are topped with fresh avocado, refried beans, rice, and tasty salsa. Originating as a typical farmer's food, huevos rancheros have become a delicacy for many avid Sunday-brunchers world-wide. Chilaquiles are a more traditional Mexican breakfast dish. Fried tortilla pieces are cooked in salsa, sprinkled with cheese, and usually served with eggs and beans.
The most highly consumed dish in Pueblo on Cinco de Mayo is its eponymous molé poblano. "Poblano" is the demonym for the people of Pueblo, and "molé" means "sauce". But if you take a glance at the intimidating list of ingredients – including various spices, chocolate, and chili peppers – that molé poblano requires and watch its careful preparation, you'll understand why its rich flavour is so sought after. Smother some roasted chicken or tostadas (toasted tortillas) with this scrumptious sauce to celebrate like a true poblano.
Another iconic poblano street food is the famous chalupa – and no, it's nothing like the one you've ordered from Taco Bell! "Chalupa" is a type of boat; the name is fitting because these hard, corn-based shells act as a container for all the delicious ingredients you plan to fill them with! Some more traditional suggestions of fillings: shredded pork, chipotle peppers, queso fresco (fresh cheese), and salsa… But you name it, and you can (probably) put it in a chalupa!
Craving something sweet? Then pan dulce is your go-to dessert food! Literally translating to "sweet bread," pan dulce can cover the whole gamut of breads and pastries that Mexico produces. So follow your nose and satiate your sweet tooth by going straight to your nearest Mexican bakery to try one – or five! – of these delectable pastries.
Are you hungry and heading to Mexico? Why not visit the inimitable Puerto Vallarta? There are tons of foodie tours in the area, so you can try tasty tacos, tamales, and regional specialties to your heart's content. Stay at the stunning Krystal Vallarta Resort or the luxurious Royal Decameron Complex. All-inclusive packages will allow you to combine relaxation, comfort, and, of course, mouthwatering cuisine!
#2: Enjoy dance, music, and cultural performances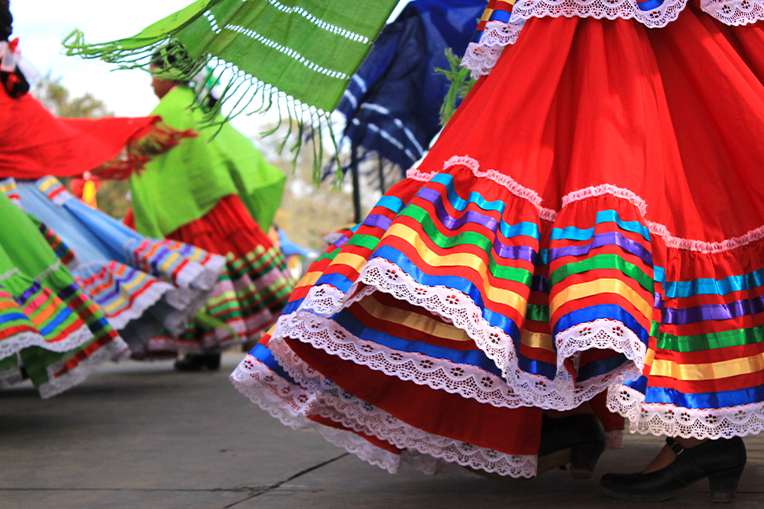 In Puebla itself, the festivities last for a full month. A colourful parade filled with floats and performers in vibrant traditional costumes files through the city. Mariachi bands play their infectious music throughout the streets. And the famous Battle of Puebla is reenacted at the site where it took place.
If military cos-play isn't your thing, not to worry! The battle reenactment is not really popular outside of Puebla. And if you're not in Mexico at the moment, you can still enjoy the celebrations in other cities; from Toronto to Tucson, you're sure to find some live performances to kick off Cinco de Mayo in style.
Often, concerts will take place, so check your local schedule to see which performers are coming to your city! You're likely to find mariachi bands and musical guests from all over Latin America.
If there are parades, check one out to enjoy the traditional costumes and dances. Lively music should keep you on your feet, and the performances and floats should entertain you well into the evening, when the fireworks start.
You're also likely to see some bailes folklóricos – or folk dances – at any Cinco de Mayo celebration. The most popular one, and the one you're probably most familiar with, is the Jarabe Tapatío, known more commonly in English as the Mexican Hat Dance. This beautiful courtship dance revolves around a sombrero, which is placed on the floor. The male dancer is resplendent in a charro suit, while the skirts of the woman's dress, called a "china poblana" dress, swirl around her in a dizzying array of colour and motion.
Other folk dances you may see include la conquista, a masked dance narrating the story of the Spanish Conquest of Mexico; concheros (meaning "shells"), a dramatic indigenous dance; and chinelos, another masked dance which pokes fun at the early Spanish settlers.
If you enjoy being swept away by stunning performances and listening to the pleasing sounds of live acoustic music, make your way to Los Cabos. You can enjoy live jazz at a seaside bar, traditional dance performances, and concerts from world-renowned musicians and DJs. Stay at the elegant Krystal Grand Los Cabos or the expansive Hotel Riu Santa Fe, which has fun adults-only theme parties, for an unforgettable stay!
#3: Mix up and enjoy some unique and festive drinks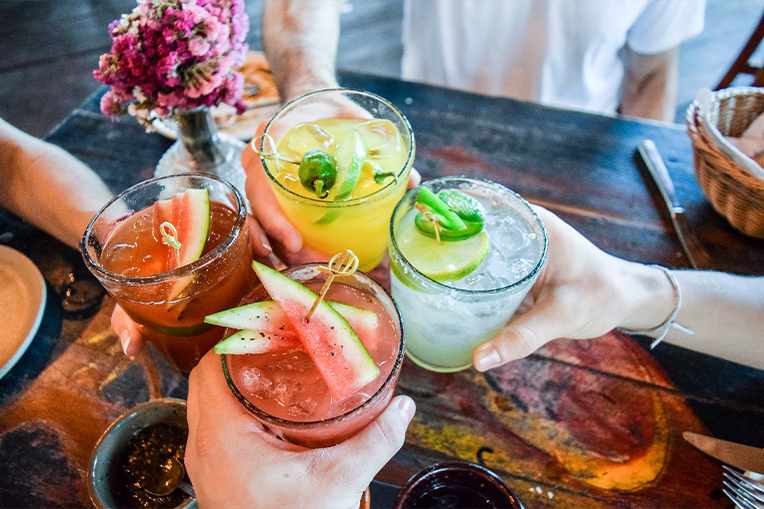 Even though tequila originated from northern Mexico, the tequila-based margarita is actually more popular as a Cinco de Mayo drink in America than in its home country. If you plan on enjoying a margarita today, here are some fun facts for you to chew on:
There are many rumours surrounding the origin of the margarita. One story goes that a Mexican bartender created the special cocktail for the daughter of a German ambassador and named the drink after her.
Margaritas are so popular in American Cinco de Mayo celebrations because a Mexican-American restaurateur invented the frozen margarita machine in the early seventies, which meant that the cocktail could be made more efficiently and served more easily.
Tequila, the base spirit of the margarita, dates back to the Aztec civilization in 1000 B.C.
But this holiday, why not venture outside of your margarita-based comfort zone? A wide variety of drinks – both alcoholic and non-alcoholic – originated in or were inspired by Mexico. So today, mix up and enjoy a different beverage – you may be surprised by how much you like it!
The paloma (meaning "dove") should be on your list of great Mexican cocktails to imbibe. The smooth drink combines authentic Mexican tequila with agave syrup, lime juice, grapefruit juice, and soda water in a silky sweet-and-sour blend. The mezcal paloma adds some smokiness to the mix with – you guessed it – a half-ounce of mezcal. Adjust the grapefruit juice and the mezcal to get the perfect tartness or sweetness you crave.
The spicy margarita is exactly what you'd expect: the classic drink you know and love, with the addition of a few jalapeño pepper slices to kick the heat up a notch!
The michelada is the beer cocktail you didn't know you needed. Take your favourite Mexican lager and add a pinch of salt, cayenne pepper, Tabasco sauce, Worcestershire sauce, ground black pepper, and a lime wedge. The result is a savoury and nuanced drink, perfect for spicing up your Cinco de Mayo.
If you're jonesin' for a non-alcholic beverage to keep you hydrated while you celebrate, the Mexican horchata is for you. This rice-based drink is flavoured with cinnamon and sugar and uses either whole milk or coconut milk. Blend the ingredients together for a delectable drink that will keep you cool on a hot, sunny day.
Have you enjoyed this dive into mixology? Well, head to Cancún to experience the IRL version of cocktail-making. Stay at the Margaritaville Island Reserve Riviera, where – as its name suggests – you can take a class to learn how to shake up the perfect margarita! Or indulge in pure relaxation in the tropical oasis of Hotel Dos Playas.
But remember to always drink responsibly!
#4: "Fiesta" with family and friends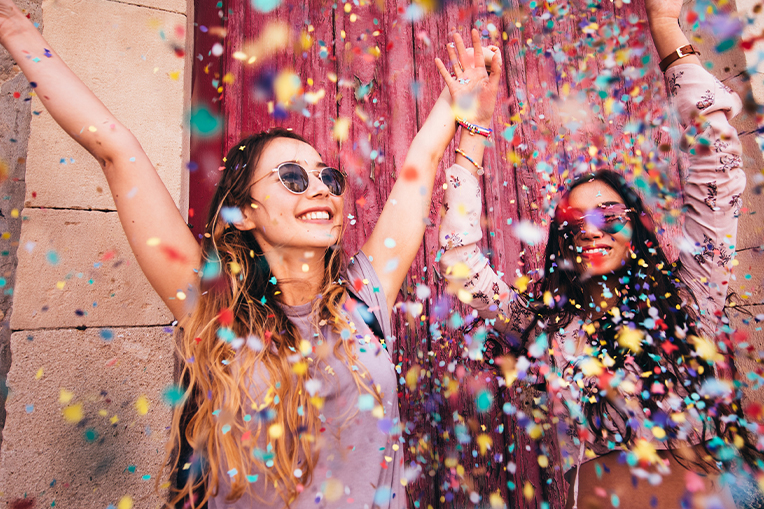 As with any celebration, it's always better with the people you love around you. So whether you're chowing down on some chalupas, enjoying a festive parade, or mixing up your own spicy margarita, bring your friends along!
Cinco de Mayo, at heart, celebrates a rich cultural heritage – and yes, a military victory – but it is also an opportunity to spend quality time with those you care about most. So order a group-sized platter of tortillas dripping with cheese and invite your family to share! Watch a live musical performance from an exciting new band with your significant other. Or take a stroll with an horchata-to-go with your besties.
If you're looking for a destination to make memories that'll last forever, head to magical Mazatlán. Reconnect with old friends at the Hotel Riu Emerald Bay; share unique moments with your family at Oceano Palace; and experience what true relaxation really is with a loved one at El Cid Granada.
Whatever you choose to do, we're wishing you a very happy Cinco de Mayo!
Ready to Book your getaway to Mexico?
See the world your way. Browse vacation packages to Mexico on redtag.ca.