Your mom deserves more than flowers. This Mother's Day, give your mom a gift she'll really love - the gift of travel. We've got you covered with the best vacations a mother could ever ask for. Who knows, maybe you'll even become her favourite child!
It's Mother's Day next month, a time to show your love and appreciation for Mom. Maybe she's the one who taught you how to swim, play soccer, or paint. Or maybe she instilled the values of empathy and hard work into you. Whatever she's passed on to you, she's probably one of the people who know you best! 
Do you already have a gift lined up? You may find it hard to shop for your mom – either she knows what she wants and already has it, or she tells you she doesn't need anything! But this year, forget the flowers, candles, gift cards, and other generic Mother's Day presents. Give your mother a gift she'll really love – an incredible vacation she won't forget!
The redtag.ca team has come up with four different travel experiences that you can gift Mom this May. So whatever her travel style, she's sure to be wowed! 
Head on a vacation with her, or send her with a partner, some friends, or alone. Either way, she'll have a memorable trip that will show her how much you care.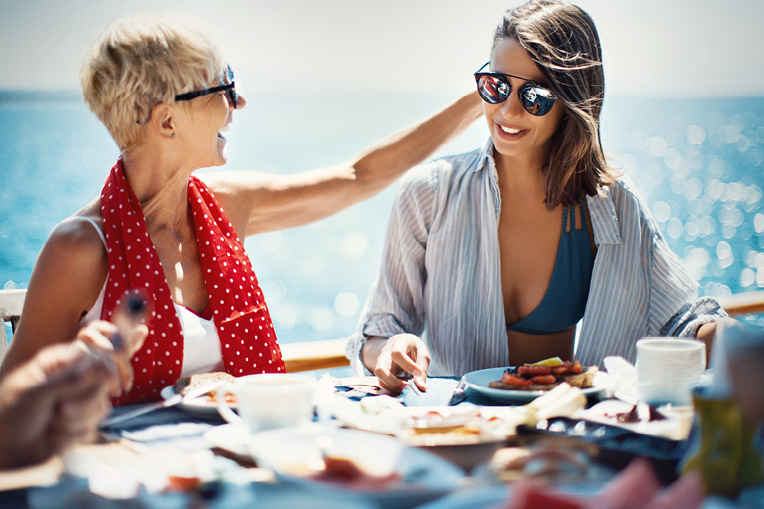 Who it's for:
This is for the busy mom – the mom who has a ton on her plate. She's likely juggling work, a family, a social life, and extracurricular activities, and she doesn't have time to plan a trip abroad. She also might not have a lot of travel experience. She's interested in other cultures but not sure where she wants to go or exactly what she wants to do.
Why choose this vacation:

Cruises are one of the easiest types of vacations to plan. You simply read the descriptions for the cruises within your budget and select the one that looks the most enticing. And once booked, you've got your accommodations, itinerary, and transportation all covered! 
Cruises are excellent for providing a taste of multiple cities or countries as well. Maybe your mom is interested in heading to Greece but doesn't know where to go. Well, a Greek Isles cruise will give her an experience of Athens, Mykonos, and Santorini, which could inspire future travels and a longer stay next time. Or maybe she wants to see remote natural beauty at its finest but isn't sure where to find that. A Norwegian cruise will let her view massive glacial walls, incredible fjords, and maybe even the northern lights! 
A cruise also offers a plethora of activities – both on-board and at the port-of-calls – to entertain every type of traveller. And many of them don't require extra planning or extra fees. Mom can spend hours relaxing in a whirlpool, learning how to dance the merengue, or attending an outdoor movie night on one of these floating cities. Some ships even have amusement parks on board and rock-climbing walls – it's never too late to learn! 
At the ports, the cruise will often have organized day trips and tours in English or another preferred language, so she won't have to worry about negotiating rates or getting lost! And if all she wants to do is lounge around on the boat and soak up the sun, that's acceptable too. 
For the best rates on upcoming sailings, head to redtag.ca and find the cruise that's perfect for your unique mom!

Flight + Hotel Package in Europe
Who it's for:

This is for the mom who wants to take a deep-dive into a new culture, experiencing as many of the attractions as she can. She wants to try new cuisines, a variety of fun activities, and maybe enjoy some high-quality shopping and museums as well. She is busy, of course, but she has enough time to plan a vacation. In short, she wants a bit of everything and can take the time to ensure that she has her ideal itinerary.
Why choose this vacation:

Europe is perfect for both the seasoned traveller and the newbie wanderer, especially major European cities like London, Paris, Brussels, Berlin, and Vienna. They have excellent public transportation networks, making it easy to get around. Many locals speak English or French, so there aren't huge communication barriers. And they offer a wide range of experiences, so moms of all types can enjoy a vacation here! 
Head to London with Mom for a fun family retreat! Ride the iconic London Eye and view this historic city from up high. Take a cruise along the Thames, England's longest river, and learn about this exciting capital city while enjoying afternoon tea or a tasty meal aboard. Or head to the West End to take in one of the many dynamic musical theatre shows. 
Let Mom enjoy Paris with her partner or friends. She can visit the exquisite Louvre Museum to discover the secret behind Mona Lisa's smile. A trip to the nearby Palace of Versailles is worth the time as well – she'll learn about French history through either a guided tour or a solo wander through the palace's storied halls. And a sunset picnic in the gardens of the Champ de Mars, the largest green space in the city, will be a great way to catch a view of the Eiffel Tower as well as enjoy some of the wine and cheese France is famous for. 
Of course, there's more to Europe than London and Paris. Your mom can try local cuisine at a casual tapas bar in Barcelona, learn about the real Gladiators through a guided tour in Rome's Colosseum, or experience a Mozart concert during a night of classical music in Vienna's famed St. Peter's Church. Whatever she prefers, Europe is her oyster! 
Find the best flight + hotel packages on offer – and treat Mom to a magical European getaway.
All-Inclusive Vacation in the Caribbean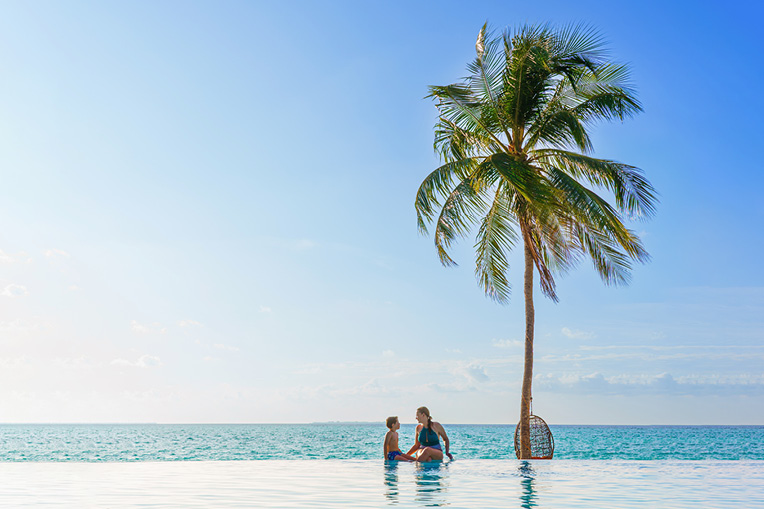 Who it's for:
This is also for the mom who doesn't have much time to plan. She's juggling a lot right now, and the main reason she should take a vacation is to relax and focus on self-care – she's burned out and needs a break from the daily hustle and bustle of her life. She's interested in experiencing a new culture too but isn't particular about where she goes, as long as it's beautiful.
Why choose this vacation:

This is the best choice for someone who doesn't want to plan a trip on their own. All-inclusive vacations are exactly what they sound like – they cover everything, from flights and hotels to meals and activities. With these packages, your mom can focus on wellness and spend less time on her computer. 
But where should she go? Which of the thousands of incredibly luxurious resorts should she choose? We have a few recommendations – so keep on reading. 
The Grand Velas Riviera Maya is our top pick for an unforgettable experience in Mexico. She can head to the Tulúm ruins, an extraordinary Mayan archeological site by the sea, and swim in a crystal-clear cenote. Book her a luxury suite, where she'll have a private terrace to watch the sunset and her own plunge pool. She can also indulge in some spa treatments, from rejuvenating massages to healing hydrotherapy sessions. 
Gift her a stay at the Paradisus Rio De Oro so she can experience the true splendour of Cuba. This five-star-plus adults-only eco-resort, located on the exquisite white-sand Playa Esmeralda beach in Holguín, is the perfect locale for relaxation. She'll enjoy views of the turquoise sea, lush tropical vegetation, and mountains in the distance. And if she's feeling adventurous, she can connect with dolphins, explore the region on a jeep safari, or horseback ride along the beach. 
The Meliá Punta Cana Beach Resort will give your mom a taste of the Dominican Republic – and have her wanting to return for more! Another adults-only enclave, this oasis in paradise is wellness-inclusive, meaning that she'll receive complimentary spa treatments (with a minimum five-night stay) and access to a unique and therapeutic water ritual. She can also treat herself to a variety of cuisines at the on-site restaurants, from international favourites to scrumptious fresh seafood. And no self-care vacation is complete without a day of lounging around on the beach! She can swim in the calm azure waters between the Caribbean Sea and the Atlantic Ocean, or just soak up that Vitamin D on a private beach bed on the stunning Playa Bávaro. 
Book a relaxation vacation in paradise for Mom now and secure today's best offers!

Road Trip Around the U.S.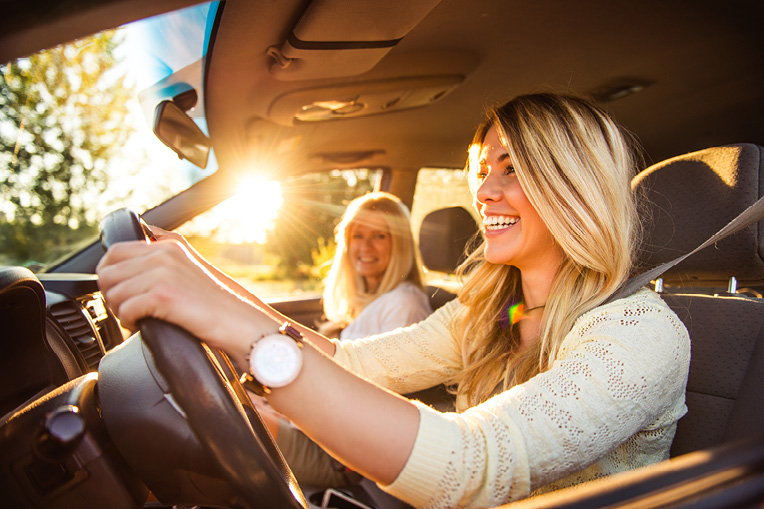 Who it's for:
This is for the mom who has time to plan a trip and who really enjoys the process. She's an experienced traveller who's looking for a completely customized trip. She often changes her mind on the fly, so she's looking for flexibility in her itinerary.
Why choose this vacation:

Road-tripping is an excellent option for those who want full control over their travels. In a personal vehicle, your daily schedule can change at a moment's notice. If you love the city you're in, you can decide that very same day to stay longer; and if you're not feeling the place, you can leave whenever you want. As well, car trips are often the most affordable, depending on where you go. 
Explore over 5,000 years of art at the Met, watch the sunrise from the top of the Empire State Building, and enjoy a plethora of global cuisines in the Big Apple. Stroll the streets of the Wynwood Arts District, which celebrates graffiti art from all over the world, and connect with nature on a thrilling boat tour of the Everglades National Park or at the verdant Fairchild Tropical Botanic Garden in Miami.
Take advantage of the convenience of road travel with a wide selection of affordable car rentals in the U.S. – the choice is yours!

Ready to book a vacation with your mom?
Made by Canadians, for Canadians. Browse the best travel deals on redtag.ca