Studies show that, time and time again, around 80% of New Year's resolutions fail. There are many reasons for why people just can't seem to stick to resolutions, but one of them is not having the right mindset to achieve goals.
Changing your lifestyle – or even just one habit – is challenging enough; so if you're not in the right frame of mind to begin that difficult change process (and it is a process, rather than a result), you're unlikely to succeed.
For example, has improving your health been one of your New Year's resolutions – pretty much every year? And have you found it hard to make time during your busy daily routine to focus on wellness, whether it be meditation or working out? If so, you're certainly not alone! Health and wellness-related resolutions are very common – and not achieving them within a year is also common.
However, this doesn't mean that you'll always be stuck in an endless cycle of creating resolutions that are destined to fail! One of the ways you can set up a positive mindset and incorporate healthy habits into your life is by taking the time now to focus solely on wellness. Start this new year on a positive note by making YOU a priority – with a self-care retreat to remember!
The great news is that, as wellness travel becomes more and more popular, there are an increasing number of destinations and resorts offering unique wellness services and facilities. So choose the one that best suits your needs to kick-start your holistic health journey now. And, as always, the redtag.ca team is here to provide you with insight on some of our favourite wellness destinations.
It's no wonder that over a million tourists flock to this small Central American nation each year. Known for its rich rainforests and incredible biodiversity, Costa Rica's natural beauty, laidback vibe, and secluded beaches make it the perfect locale for your wellness retreat.
We recommend heading to Guanacaste, the northwesternmost province, for pristine Pacific Coast beaches, stretches of untouched national parkland, a unique cowboy culture, and waterfalls galore!
Guanacaste is also a wellness wonderland. You won't have any shortage of spas and holistic health facilities to choose from, and whichever serene setting you choose, you're guaranteed to be surrounded by verdant vegetation or have an oceanfront view.
Head to Arenal, a large, active stratovolcano in Costa Rica's neighbouring province of Alajuela, for a wide variety of swimmable hot springs. It's best to do a hike around
Arenal first, and then soothe those sore muscles with a relaxing dip into the nearby thermal waters.
In Guanacaste itself, you'll find another active volcano, Rincón de la Vieja, and its accompanying thermal pools. Some of the pools in the area offer mud body-painting and baths. Feel your skin come alive with one of these mineral-rich volcanic mud treatments – it's the perfect way to release stress, relieve muscle tension, and rejuvenate your mind and body! Our top pick for a memorable self-care stay in gorgeous Guanacaste is Secrets Papagayo Resort & Spa. This intimate adults-only spot, situated on the black-sand Playa Arenillas, is your beachfront haven for relaxation. You'll be treated to unbelievable views of the picturesque Papagayo Bay, lush tropical foliage, and distant mountains. You'll also have access to the Spa by Pevonia's award-winning skincare products and services. Treat yourself to a rejuvenating facial or a wine therapy massage to wind down your evening just right!
When you're in Costa Rica, remember to enjoy the pure, simple things in life. "¡Pura vida!" as ticos (Costa Ricans) say!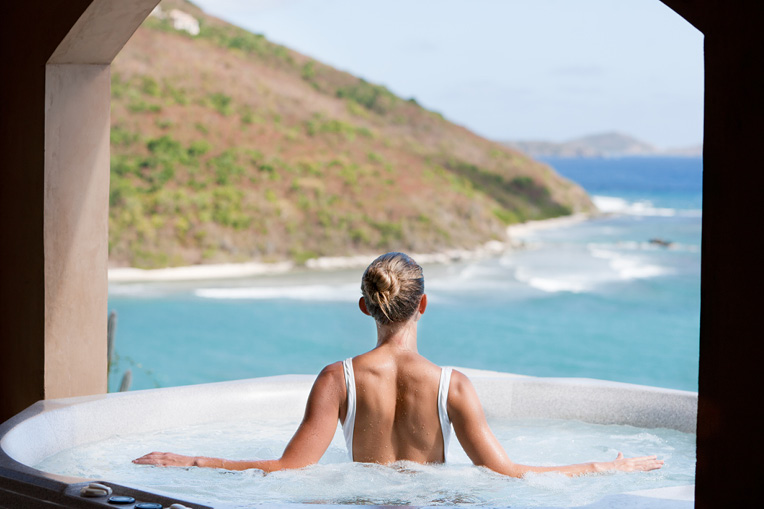 What's not to love about Mexico? From its world-famous cuisine and archeological sites to its friendly people and rich culture, Mexico will charm you the moment you step off the plane!
Head to the Riviera Maya, a long stretch of beautiful Caribbean coastline on Mexico's Yucatán Peninsula, for your wellbeing escape. You'll find endless opportunities to disconnect and restore your energy, whether it's beach yoga sessions in Tulum or a relaxing swim in a crystal-clear cenote.
Try a temazcal, a healing ceremony that takes place in a traditional Mexican sweat lodge. This ancient Indigenous tradition started as a post-battle cleansing ritual around a thousand years ago in Mesoamerica. But it has recently become more popular as a wellness ritual due to its many physical and mental health benefits, including flushing out toxins and relieving stress. If you do choose to participate, make sure to be respectful and follow the instructions of your temazcalero (spiritual leader), because it is not only a wellness ritual but also an important spiritual practice for many. Need a place to stay during your time in Mexico? El Dorado Royale by Karisma is our pick for your Riviera Maya self-care adventure! Gift yourself a Sky Massage, which takes place in an intimate palapa on the beach. You can unwind in front of a gorgeous stretch of shoreline under the bright blue sky. Head to the Náay Spa for an indulgent cocoa butter body wrap or a rejuvenating facial that will leave you feeling like royalty.
You can also experience the temazcal ritual for yourself at the nearby El Dorado Casitas Royale.
Whatever you choose to do, you'll come home feeling recharged after your stay in this Caribbean paradise.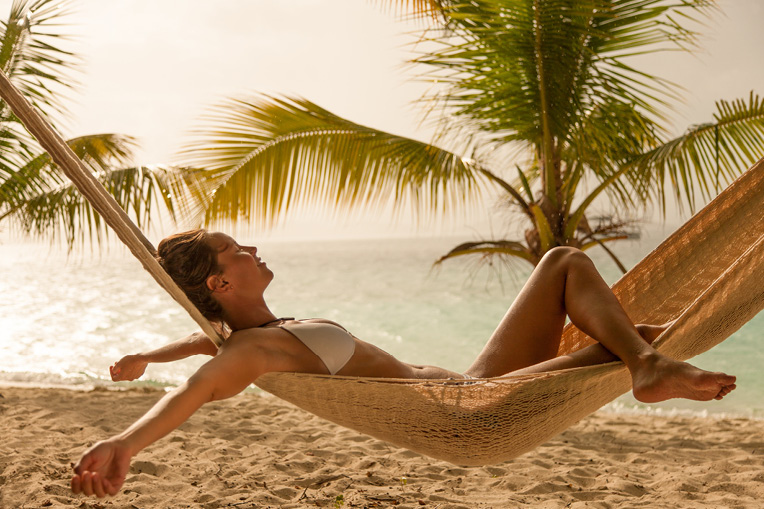 Jamaica is an obvious choice for any traveller who wants to enjoy a slower pace of life and escape into nature. Whether you prefer to spend your days exploring multi-coloured coral reefs and mysterious caves, or simply work on your tan on a white-sand beach, this magical island has something for you!
Here you'll find a wide assortment of yoga retreats to help ground you away from the distractions of your busy life. And don't worry if you're a yoga newbie! Whether you've got your downward dog down pat or not, you'll come away from these retreats with a greater understanding of the practice and of your own body's strength.
Need to find your centre and tune out the noise around you? Why not try a meditation retreat? Surrounded by green gardens, majestic waterfalls, and spectacular mountains, you'll easily find your inner calm. Unplug, breathe fresh ocean air, and regain your focus in a peaceful natural setting.
Healthy meals are also key to your personal wellness, and Jamaica has no shortage of delicious whole foods to provide you with energy! You'll have your fill of cool spring water, inventive herbal teas, and fresh mangos, star fruit, papaya, and ackee (the country's national fruit) to start your day off right. In the evening, treat yourself to the daily catch – try the fresh snapper or grilled lobster for a satiating seafood experience! Make sure to book a stay at the Hideaway at Royalton Negril, the wellness oasis you didn't know you needed. At this adults-only all-inclusive resort, you'll experience the true meaning of luxury.
Wake up every morning to the scent of frangipani and the sound of gentle waves hitting the shore. Have the freshest of fruit juices and savoury snacks delivered straight to your private cabana on the beach. As temperatures rise, cool down with a dip into the calm turquoise waters of the Caribbean Sea. Get pampered at the on-site Royal Spa with a signature massage that will leave you feeling rejuvenated and ready to tackle the rest of your New Year's resolutions!

The time is now to put yourself first, get into a goal-achieving mindset, and start the year on a positive note. Whether you head to Costa Rica, Mexico, Jamaica, or another dreamy destination, begin your new year right by focusing on your wellbeing. Treat yourself to the tropical wellness getaway you know you deserve!
Ready to book your dream vacation?
See the world, your way. Browse the top travel deals on redtag.ca