Travelling alone doesn't mean being lonely. While it may seem scary, it's the ultimate freedom. The redtag.ca team has got you covered with the best things to do while travelling solo and where you can do them!
Did you know March 1st is "Plan a Solo Vacation Day"? You're probably so used to seeing promotions for couples' travel that you've forgotten how easy and fun travel can be with the most important person in your life – you! So to commemorate this day, why not plan a memorable solo trip to celebrate your awesomeness? 
If you're an inexperienced traveller, then the idea of planning a vacation completely on your own might seem daunting. These questions may be floating through your mind: "How do I even begin to create a trip itinerary by myself?" "Won't I be bored and lonely?" "Isn't solo travel way more expensive?" 
While, of course, there are lots of pros to travelling with others, don't knock solo travel before you try it! There are also many benefits to planning and taking a trip by yourself. You don't have to compromise on the itinerary – so all the activities you schedule are things you actually want to do! You can choose the destination that makes your heart sing and fill your itinerary with activities you enjoy, whether that be yoga and meditation retreats in Bali or ziplining and snorkelling in Jamaica. 
Interestingly, you're also more likely to meet people when you're alone. When you travel solo and keep a positive attitude, you'll be surprised at how many people will come up and talk to you. Plus, some fantastic all-inclusive resorts don't make it more expensive to vacation alone, and if you're stumped for ideas on how to spend your time on this solo trip, don't worry! The redtag.ca team has some recommendations for the best things to do while travelling on your own – and where you can do them!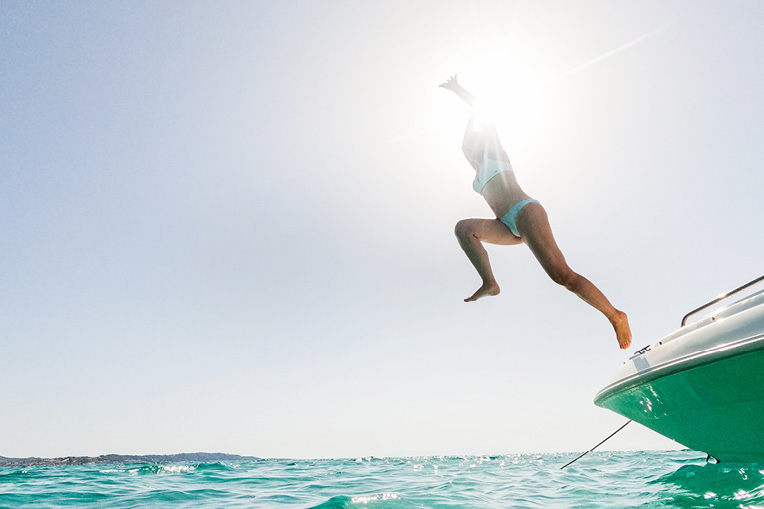 Yes, it takes two to tango – but most other activities can be done solo. Take this trip as an opportunity to enjoy your favourite activities and try new things. Have you always wanted to learn to scuba dive, sail, or salsa? Now's your chance! Or maybe you love to cook, but during your busy daily routine, you don't have time to scroll the Internet for novel recipes, shop farmers' markets for fresh ingredients, and create the next Gordon Ramsay-approved culinary masterpiece. Well, you're on vacation! So why not take a Caribbean cooking class? Spend time doing what you love, whip up some mouth-watering jerk chicken, and take home some new recipes that you can recreate later in the comfort of your own kitchen. This vacation is the perfect time for self-discovery – and what may come out of it is a long-term passion for a new hobby.
Punta Cana, on the northeastern tip of the Dominican Republic, is our pick for an activity-filled haven that will keep your trip itinerary packed and your excitement levels high. For accommodations in the area, look no further than the beautiful Barceló Bávaro Beach, an adults-only Punta Cana paradise. With an all-inclusive package, you'll have your every need taken care of, and you'll have access to a wide variety of activities and sports equipment. If you're feeling the Latin vibes, get your groove on in salsa, bachata, and merengue classes. Paddle out into the turquoise ocean in your own kayak or learn how to sail a catamaran. Golf, scuba diving, and windsurfing lessons are also available, and skydiving can even be arranged! In the Dominican Republic, you'll never be bored – cross off those bucket-list items while having the solo-cation of a lifetime!

Immerse Yourself in a New Culture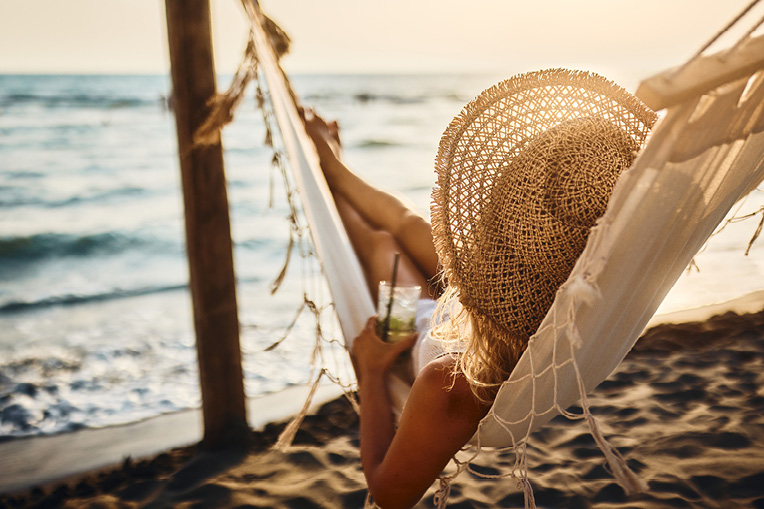 Part of the joy of travelling is seeing the way others live and experiencing a new culture. And with trips becoming easier than ever to organize, you don't need to stress about how to plan and execute a solo visit to a new place, even if the local language isn't English. Your hotel can help you book transportation to cultural attractions. You can also book easy day trips that will give you the chance to see multiple sites over a few hours – and it's a great way to meet other travellers too!
If you're a culture vulture, Mexico has to be on your list of top places to visit. With ancient Mayan ruins dating from over a millennium, history and art museums galore, Mexico won't disappoint. Head straight to the ruins of Chichén Itzá, an impressive Mayan archeological site and one of the New Seven Wonders of the World. Experience a Temazcal ritual, a traditional Mayan purification ceremony, which will cleanse your body and mind and leave you feeling rejuvenated (and just a little sweaty!). And take in a lucha libre show – a unique Mexican wrestling performance combining acrobatics, some theatrics, and fantastic costumes! What's not to love?
Book a stay at the Breathless Soul Cancun for the right combination of cultural immersion and beachfront relaxation. You'll be just a few minutes from the vibrant downtown strip and from Avenida Tulum, the main thoroughfare of the city. Make sure to try the savoury tacos and other local dishes from the many street vendors around. Check out the mercados for great souvenirs, handicrafts, and clothing at reasonable prices.
For rainy days or when you need a break from the incredible sightseeing, this all-inclusive resort offers culinary classes, dance workshops, tequila tastings, Spanish classes and more. ¿No hablas español? ¡No hay problema! Learn from native speakers and pick up important phrases and words in Spanish en poco tiempo. Understand the fundamentals of salsa and master the basic steps of this passionate dance.
Enjoy Local and International Cuisine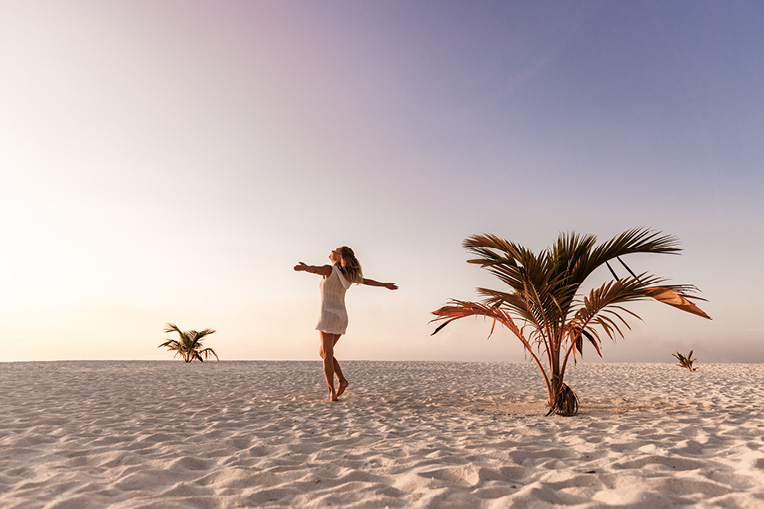 Regardless of whether or not you're a true foodie, let's be real – one of the best parts of any vacation is eating! Enjoying the atmosphere of an elegant restaurant while trying exquisitely crafted food creations or standing in front of a busy market stall while scarfing down street fare are both important parts of a trip abroad. And just because you're solo-travelling doesn't mean you should miss out on any of these culinary experiences!
If food is high on your vacation priority list, and you're jonesin' for a cuisine you won't get sick of eating day in and day out, Cuba is the place for you! Cuban cuisine combines elements of Indigenous Taino food with African, Spanish, and Caribbean influences to create a perfect medley of flavours that you'll be missing once you're gone. Some popular dishes from this exciting fusion cuisine that you can't leave without trying include: fricasé de pollo, croquetas, arroz con leche, and enchilado de camarones. From simple basics, like fried eggs and rice, to more complex dishes, Cuban food offers something for everyone – so prepare to be delighted by one of the most original and tasty cuisines in the northern hemisphere!
Want to try local dishes but also crave variety in your life? Then reserve your spot under the sun at Paradisus Los Cayos, your tropical oasis on Cayo Santa María, one of the small, remote keys north of the Cuban mainland. This lush haven has 25 on-site restaurants and bars. So whether you're craving fresh Caribbean seafood delights or familiar Italian pasta dishes, this eco-resort has you covered!
Your only problem at the Paradisus Los Cayos will be choosing a restaurant each day. But wherever you decide to eat, you won't go hungry in Cuba!

Treat Yourself to a Little Luxury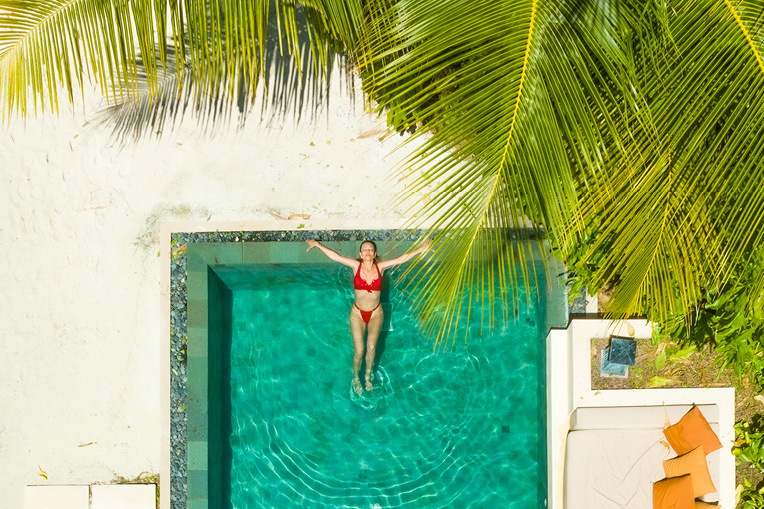 In your daily life, you probably don't spend much on luxury items. You may think that it's a better use of money to buy something that lasts rather than something flashy. And you'd probably prefer to put away any extra money into long-term savings rather than a short-term trip.
But taking a break from your regular routine can do wonders for your physical and mental health. And indulging doesn't have to be an exorbitant cost. You can have a truly luxurious experience that doesn't break the bank – even if you travel alone.
While there are countless resorts and hotels that will allow you to feel like the royalty you are, our top pick for an unforgettable luxury retreat is the five-star Secrets Moxche Playa Del Carmen. Just south of Cancún, this lavish hideaway in Mexico has all you need for a perfect, rejuvenating vacation.
Book a junior suite with an ocean view to be captivated by the beauty of the Caribbean Sea, or reserve a room with a tropical view to find yourself in a jungle paradise. Stroll along the white-sand beach or just soak up the sun while you chill on your beach lounger. Enjoy a glass of wine or an aperitif in the outdoor tub on your private terrace before dinner. Head to one of the rooftop pools to watch the sunset transform the sky into vibrant shades of orange and pink. Dine in style at one of the seven à la carte restaurants and eat your fill of tacos at the Dos Almas tasting bar. Make new friends over signature cocktails at one of the inviting swim-up bars.
With this five-star resort's Unlimited-Luxury program, almost every amenity is included in your stay, from 24-hour room service to gourmet dining and drinks – so no need to worry about a thing. You're in paradise, so sit back, relax, and enjoy the luxe getaway you deserve.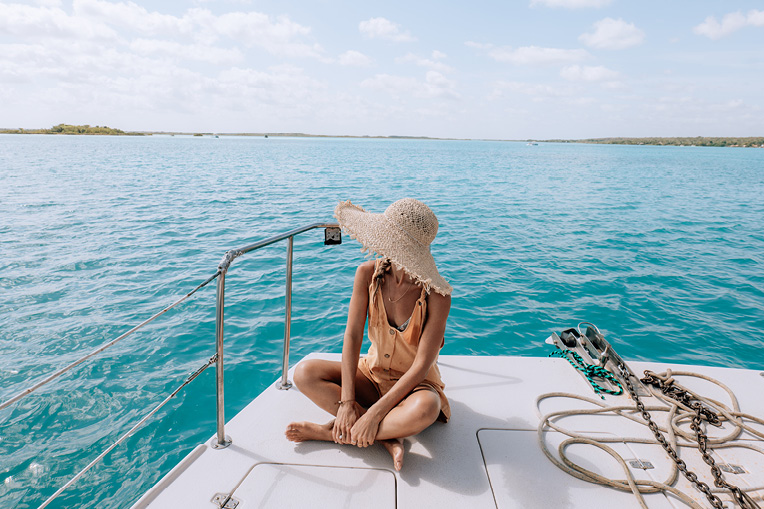 Another excellent reason to take a solo trip is so you can focus on yourself – and on your physical and mental health. Do you have a stressful job or lack work-life balance? Do you put off making positive changes to your lifestyle (eating healthy, going to the gym) because you just don't have the time? Are you constantly agreeing to events and activities that you don't really want to do because you feel obligated to your family, friends, and coworkers? If you answered yes to any of these questions, then you need a self-care retreat! Say no to distractions and yes to yourself for a change!
Our top spot for a wellness haven that will leave you feeling fully restored is the Bahia Principe Luxury Samana in Punta Balandra, which sits atop a cliff overlooking Samana Bay in the Dominican Republic. This adults-only five-star paradise, where you'll begin your self-care journey, is the serene oasis you didn't know you needed.
Get your morning started right with sunrise yoga or tai-chi, which will help you find the perfect mind-body balance. Enjoy fresh juices made from tropical fruits and high-quality cuisine all day long. Explore Samana's gorgeous coastline by taking a walk along the shore, soaking up the sun's rays and getting that much-needed Vitamin D. Head to the Bahía Spa for an extra-special treatment of your choice. A hot stone massage will leave you feeling relaxed and relieve your muscles of any tension and pain. Take a refreshing dip in the garden terrace pool to cool down after a day filled with sunshine and tropical heat.
You'll head back home a new person after your self-care retreat! Don't put it off any longer – say yes to a new you and to the wellness getaway of your dreams.

Whether you want to connect with nature, try new things, experience a different culture, or pamper yourself (or all of the above!), your next trip abroad should be a solo trip! Plan a vacation where you don't have to compromise with anyone and where your itinerary can be flexible. And stay at a dreamy all-inclusive resort that won't charge you more for travelling without a plus-one. Are you ready?
Ready to book your solo vacation?
Made by Canadians, for Canadians. Browse the best travel deals on redtag.ca