Find out why these dreamy properties are the perfect place to reconnect!
Let's face it: sometimes we take the ones we love for granted. Have a big deadline at work? Maybe you cancel that dinner date. Calendar fully booked with to-dos? You just don't have time to buy presents or flowers. Big long-weekend trip with the boys? It's probably fine if you don't check in with the missus.
This may not seem like a big deal – we've all forgotten important dates, cancelled plans, or neglected to show our love at some point. But over time, not prioritizing your partner can hurt your relationship.
You may throw up your hands and say, "Well, I'm just not the romantic type! I don't know what to do!" Here's where Karisma's got you covered. Book a stay at any one of their stunning properties and let them do the romantic work for you!
Margaritaville Island Reserve Cap Cana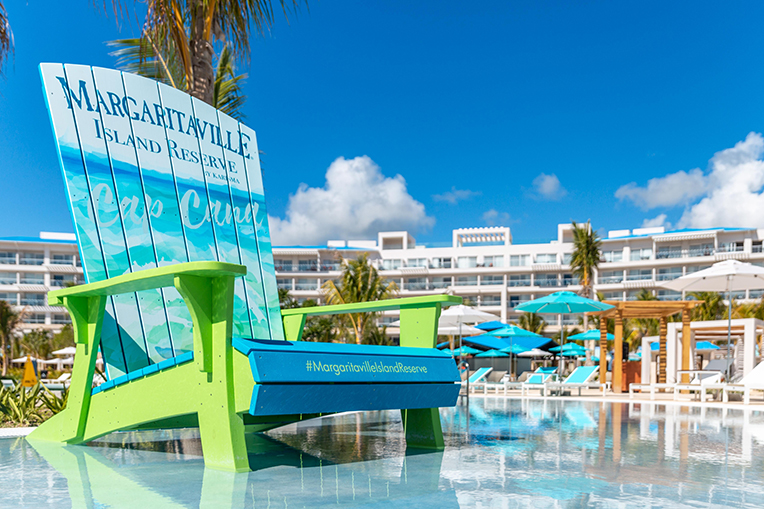 Margaritaville Island Reserve Cap Cana is one of the top-rated resorts in the Dominican Republic. Enjoy a steak grilled to perfection or Asian street food specialties at one of the six in-house restaurants. Try your hand at kayaking, paddle boarding, or even scuba diving – first timers are welcome, as scuba clinics are run regularly at the pool!
For any competitive types who always feel the urge to win, even while on vacation, there are cornhole, pickle ball, and beach volleyball tournaments to satisfy your needs. Didn't make it to the Olympics this time around? That's alright! You can participate in the weekly Flip-Flop Olympics and hopefully take home a gold medal in flip-pong. Trying different things can give you and your partner a chance to connect over something new as well as build up your store of wonderful memories together.
No worries if you're not into athletics and are feeling chill vibes. There are live musical performances every night, so you can jam out to those classic rock hits and acoustic sounds. Head down to the beach when it gets dark for a romantic walk or a bonfire party. And who says you shouldn't talk to strangers? Make long-lasting connections with new friends and other couples at one of the many pool parties, beach bonfires, or mixology classes on the resort.
Nickelodeon Hotels & Resorts Punta Cana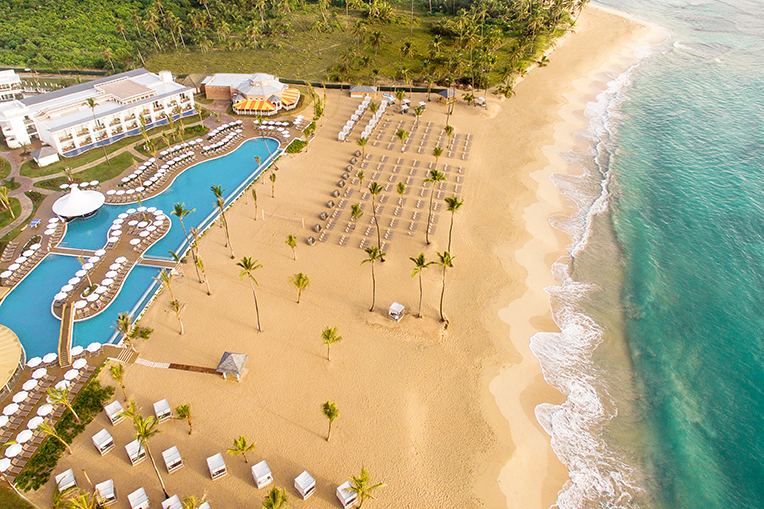 Want to reconnect with your partner and bring the whole family along? Nickelodeon Hotels & Resorts Punta Cana in the Dominican Republic is fun for all ages, and there's no shortage of activities to keep the kids entertained!
Stay at the luxurious Pineapple Villa, modelled after SpongeBob SquarePants' own undersea home, and take your kids to Character Central in the Nickelodeon Place to meet their favourite characters. You can also head to AquaNick, the on-site water park, for all-day aquatic fun. Stop for dinner at Spacewalker, where you can dine in outer space and have intergalactic dishes delivered by astronaut waitstaff.
Need some alone time with your partner? Drop the little ones off at Club Nick, where they can do supervised kids-only activities, and head straight to the ocean. You can elevate your beach experience by booking a Bali beach bed and hiring your own private butler for the day. Then, watch a traditional Caribbean drum show and dance the night away with your special someone at the White Beach Party.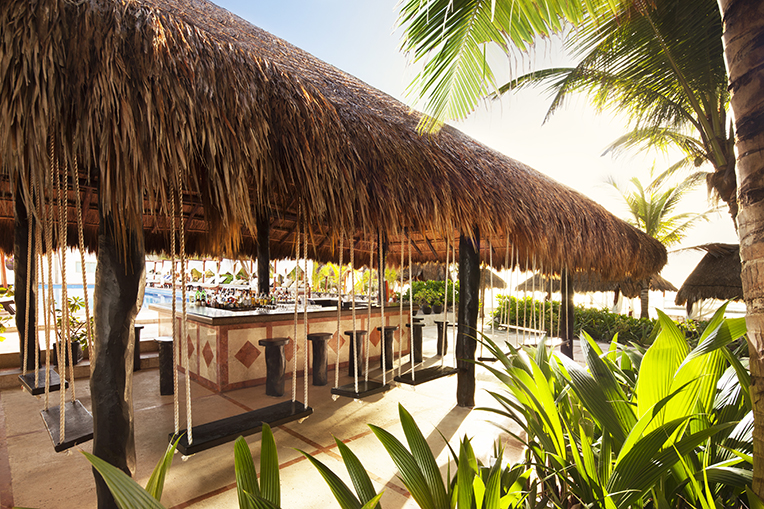 If the sparkling white-sand shores of the Riviera Maya are calling you, then El Dorado Seaside Palms in Mexico may be for you! At this picturesque adults-only resort in Mexico, you'll be able to spend a perfect, tranquil vacation away from the kids. Enjoy a couples massage or check out the aromatherapy menu to see other options for full relaxation in paradise.
Start your morning right with a stretching and yoga class on the beach. Beginners are welcome, so don't be stressed if your Downward-Facing Dog isn't quite up to par yet! You can also experience one of largest coral reefs in the Riviera Maya by just stepping off the shore. Grab your masks, snorkels, and fins and explore this incredibly important underwater ecosystem with your partner.
Don't feel like leaving your room? Then book the Royal Swim Up Suite, and you can step right into your own pool for total seclusion. You also receive 24-hour room service and a private candle-light dinner on the beach. This is the perfect way to spice up the romance!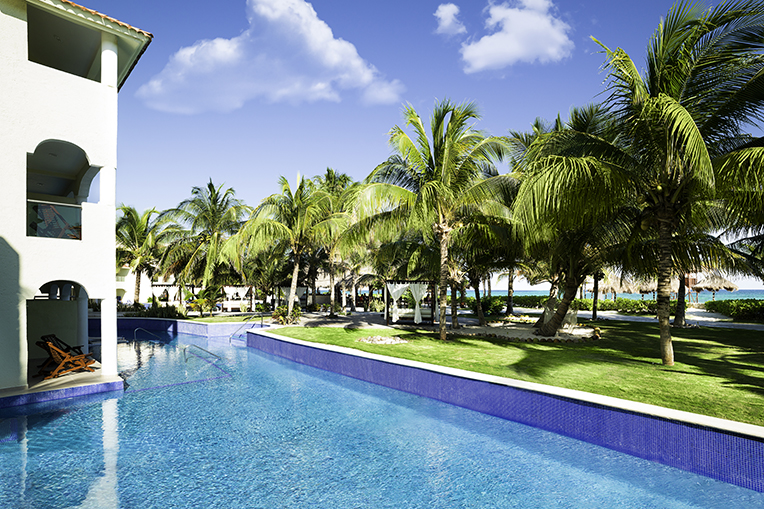 El Dorado Royale in Riviera Maya, Mexico, is another option for an adults-only experience in an unbelievable paradise. Head right to the secluded beach, which is just steps away from each room, or walk into a natural saltwater pool to soothe your skin. Take a tour of the 76,000 square-foot hydroponic greenhouse to see where all the scrumptious, sustainably produced fruits and vegetables come from! Then, learn about how this food is prepared to perfection in a cooking class with an international chef.
In the evening, head to the Fuentes Culinary Theater for gourmet cuisine plus non-stop, Iron Chef-level entertainment! The Creative Chef and the Sommelier will take you on a mouth-watering journey that will satiate your appetite and provide you with an amusing culinary performance along the way.
Feeling cowboy vibes? Grab your saddle and riding breeches and head over to the Bonanza Ranch. Take a jaunty horseback ride with your loved one through vibrant fruit orchards and lush jungles. Just watch out for the monkeys!
Finally, what better way to reignite the flame with your partner than by learning salsa? This dance originated in Cuba, was popularized in New York City, and is the meeting point of European and African dances. In the same way it brought disparate cultures together, salsa can bring you and your special someone together. Join a class and feel the Latin rhythms of this passionate and sensual dance.
---
No matter which resort you choose, you will find new ways to reconnect with your partner – whether you've been together for one year or twenty!
Ready to Book your Caribbean getaway?
See the world your way. Browse Karisma Hotels & Resorts on redtag.ca.